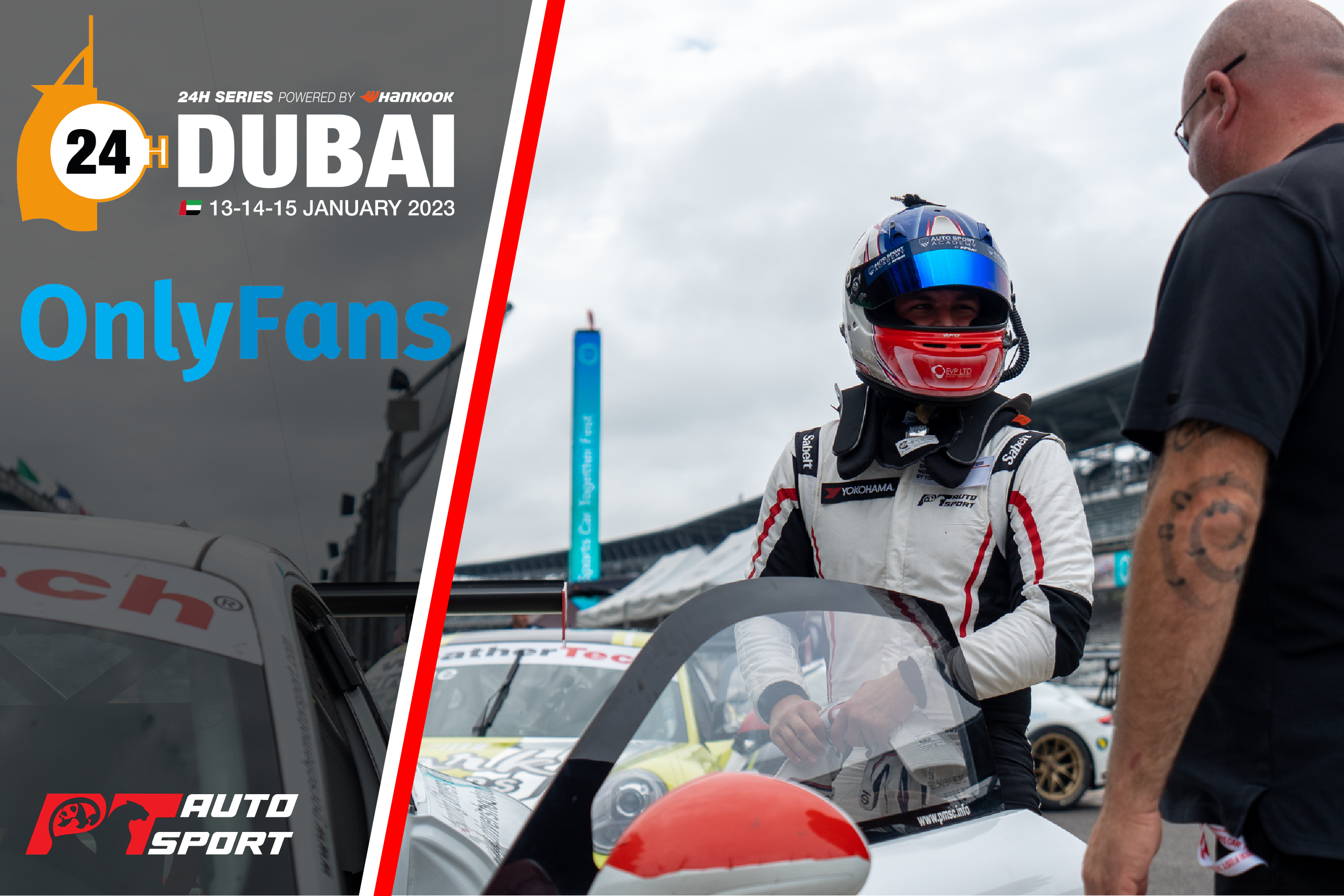 PRESS RELEASE                                                                               
12/27/22 – PT002
————————————————————————————————-
SEDGWICK AND PT AUTOSPORT GO ENDURANCE RACING WITH ONLYFANS
Tuesday, December 27th, 2022 – Millville, NJ 
PT Autosport and Alex Sedgwick are excited to announce the start to their 2023 season on January 13th, when they fly to the United Arab Emirates to take on the Creventic Dubai 24 Hours in a Porsche 992 GT3 Cup car run by P1 Groupe and Molitor Racing Systems.
With Alex Vogel (United States), Alex Sedgwick (UK), Leon Koehler (Germany) and Jukka Honkavuori (Finland) behind the wheel, the #943 OnlyFans car will challenge for the win in the fifteen-strong 992 class this January 13th-15th, in the Blue-Ribbon event of the Creventic Middle East Trophy.
With a strong driver lineup all experienced behind the wheel of the Porsche 992 GT3 Cup Car, the #943 crew are hoping for nothing less than the top step of the podium next month.
Fans can watch the #943 Porsche cup car in its distinctive OnlyFans livery on Motorsport TV and the 24H Series YouTube channel, and listen to live coverage of the event on Radio Le Mans. 
In addition to the event's world class coverage, the P1 Groupe by MRS team and drivers will be creating content throughout the 3-day event exclusively for OnlyFans TV and their personal OnlyFans pages. Check in on Alex here: https://onlyfans.com/479783278/alexsedgwickracing
— 
OnlyFans is a social platform revolutionizing creator and fan creations. The site is inclusive of artists and content creators from all genres and allows them to monetize their content while developing authentic relationships with their fanbase. www.onlyfans.com 
Alex Sedgwick, Lead Driver, PT Autosport: 
"I'm incredibly excited to be joining OnlyFans Racing with P1 Groupe by MRS for the 2023 24 hours of Dubai. We have a very strong driver lineup capable of going to the top step of the podium. I am incredibly grateful to OnlyFans for the support and am excited to document the race week through OnlyFansTV. In addition, I must thank P1 Groupe and MRS for putting together this fantastic opportunity and PT Autosport for their continual support. Looking forward to putting in a great drive and getting some great time behind the wheel of the Porsche 992 GT3 racecar in preparation for the 2023 Porsche Carrera Cup North America season." 
Eric Burch, President, P1 Groupe:
"I've been talking to Alex (Sedgwick) for a few years now, and we're very excited to welcome him to this exciting program for 2023.  Alex displays professionalism on and off the racetrack and with the support of a program like PT has great things in store for the future." 
Jason Myers – PT Autosport, Team Principal:
"I am really grateful for Eric at P1 Groupe and Karsten at Molitor Racing Systems for including PT Autosport and Alex (Sedgwick) in this program with Alex (Vogel) and OnlyFans. Alex and Alex, along with Leon and Jukka, make a great lineup that can fight for the win – and we are looking forward to being a solid part of the effort to get on the podium. We've been eager to get Alex (Sedgwick) some seat time in the Porsche 992 GT3 in preparation for next year and our full season of Carrera Cup. While we haven't officially announced those plans or any pertinent details, we have launched a committed attack for the Championship next year. We have worked hard to put the right partners in place to help ensure the best opportunity for Alex and the team to win – so stay tuned for more, it's going to be a great year!"
—
PT Autosport is a young, startup racing team aiming to campaign at the highest levels of global sportscar racing. The team are dedicating themselves to increasing the presence of qualified individuals in the motorsports industry that come from diverse ethnic and economic backgrounds by providing learning and employment opportunities as racing drivers, engineers, mechanics/crew, or motorsports business professionals. The team is striving to achieve this by creating an educational, competitive, and supportive environment for all team members throughout the organization. Learn more about the team and their mission at www.DriverShootout.com and www.PTAutosport.com
-ENDS-