Solid points performances for Alex Sedgwick in a pair of wild Porsche Deluxe Carrera Cup North America races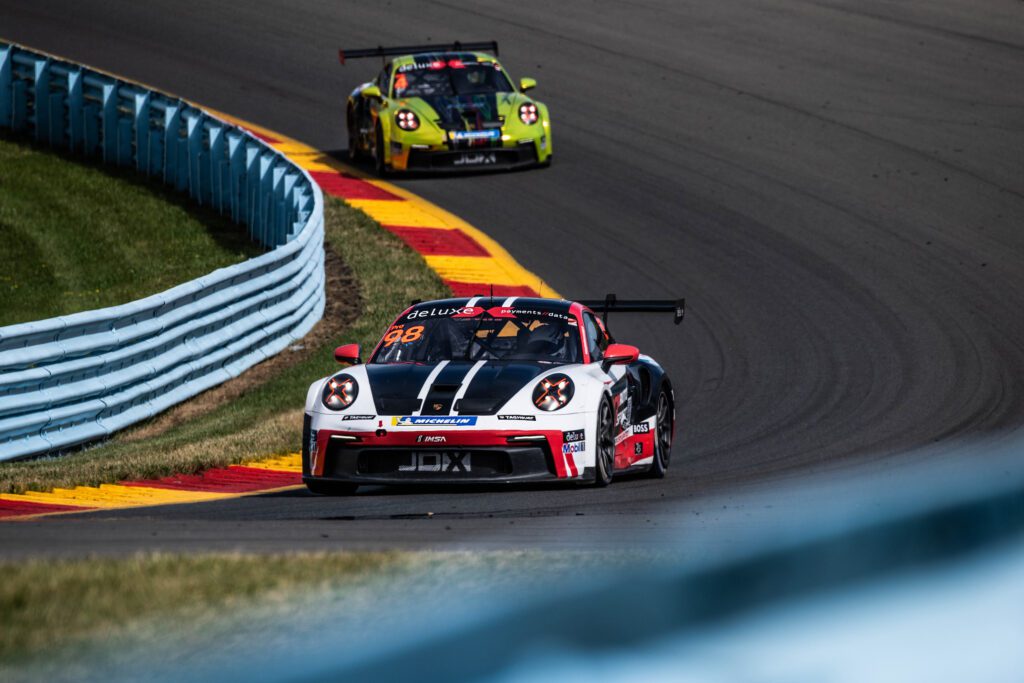 Alex Sedgwick showed his best pace of the season behind the wheel of the No. 98 PT Autosport Porsche 911
GT3 Cup Car, as the 24-year-old Warwickshire, UK native gained significant points with a fourth and a fifth-place finish in the pair of 40-minute races in wildly changing weather conditions on the famed upstate New York road course.
As the 16-race season hits the halfway mark, Sedgwick lies in fifth position in the point standings, but with the margin to 1-4 tightened considerably.
The JDX team had tested at WGI last month, with Sedgwick able to quickly learn the legendary circuit's intricacies as he put that knowledge to use as the official IMSA race weekend opened with practice on Thursday.
In the morning practice session,
with little Michelin rubber on the
11-turn, 3.45-mile road course, Sedgwick set the third quickest time on a very green racetrack. In the afternoon session, it was P8 – a solid time on used Michelin tires.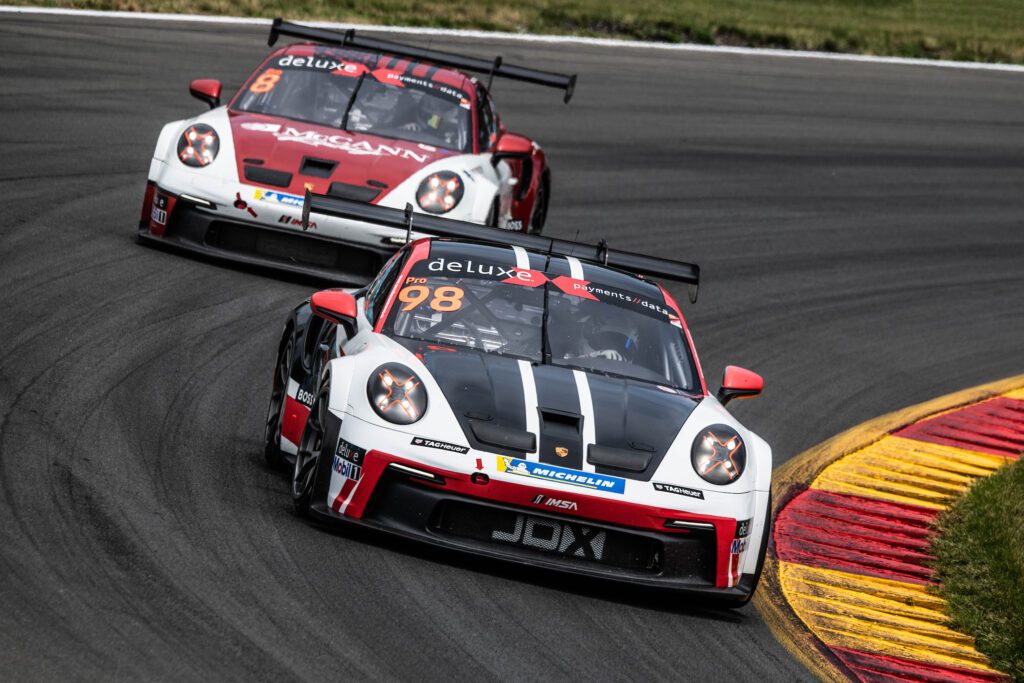 Cloudy and cool conditions greeted the racers for Friday morning qualifying. On his last lap of qualifying, he set his quickest times in all three sectors to put himself seventh in race one, and fifth in race two with a lap at 1:48.359 – his fastest lap of the weekend.
The JDX team made a crucial decision ahead of the race that became a significant factor in both races: putting new Michelin tires on only the left (more heavily loaded) side of the car. That meant that Sedgwick had two new tires for both races, instead of four new tires for race one – as most of his competitors.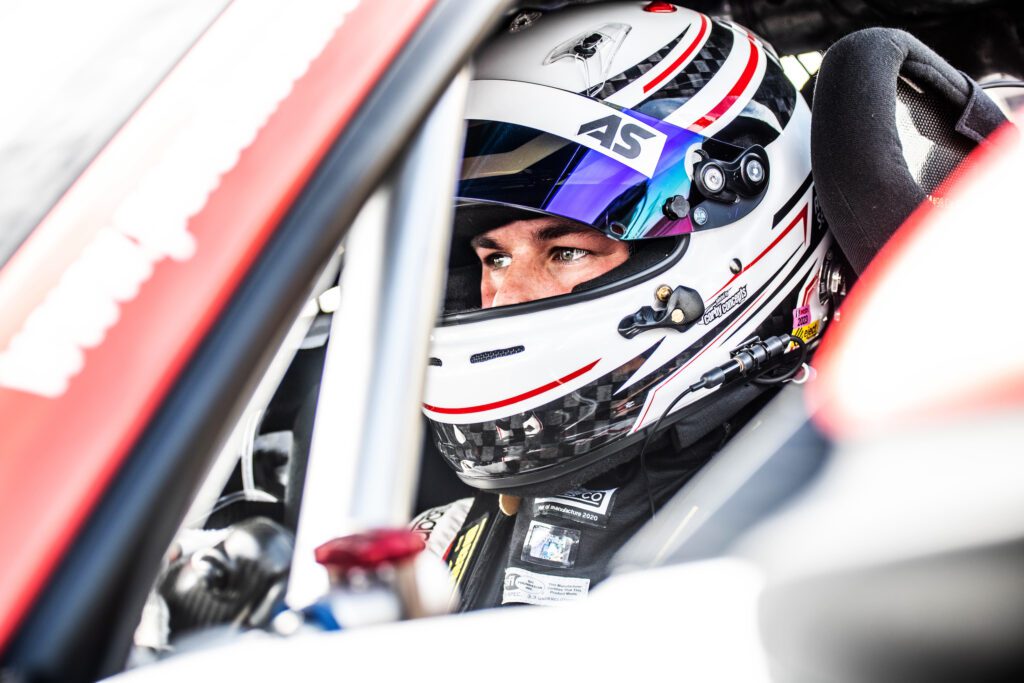 Moving up a position in race one after a post-qualifying penalty to a competitor, Sedgwick began pressing his case at the drop of the green – stapling himself to the car in front, sliding to the outside in turn one and taking fifth position. The top five cars settled in nose-to-tail, all running lap times within three-tenths of a second, but with breathing room between each car by lap five. Posting laps faster than the car ahead in fourth position, Sedgwick worked to find a way forward – until teammate Will Martin, leading from pole, was hit from behind and fell back in the field, putting Sedgwick into fourth. Now the on-track fight was for a podium position.
Lap 14 saw Sedgwick as the fastest car on track, leaning hard on Tom Sargent ahead, hoping to force a mistake.
He pushed through multiple laps and through lapped traffic, but without a lane
to make a move, Sedgwick took the checkered flag in fourth – pacing within two-tenths of the leader.
"By race end, we were back to where we expected to be, pace-wise, after a difficult qualifying," said Sedgwick. "We were bumped to the outside of row four which I thought might be an issue going into turn one, but we got a really good start and slid into P5 in the Esses – and that worked out really well, as everyone behind us stacked up and basically had their own race. Once everyone started to struggle a bit, we were in great position. We had great pace mid-race and I was able to get close to Sargent in the Bus Stop, but with all the aero the Porsche has, we'd lose him in 10 and 11, repeat every lap. Frustrating in some respects, but then again, everyone ahead of us in the championship was behind us today."
With the bulk of the field on used tires, Sedgwick took the race two green with two new left side Michelins. But as the green flag flew, the car ahead failed to launch, forcing Sedgwick to try an inside pass in turn 1. Pushed onto the curbs, he was fortunate to only lose one position. Pacing two-tenths of a second more quickly than the car ahead, Sedgwick was determined to move forward.
Making the pass stick in turn 9, Sedgwick regain fifth position and began to close the gap to the leaders. But Mother Nature had not yet had her say, as race control called light rain in turn 8 with 13 minutes remaining. Within moments, two cars had spun and come together in turn 8, bringing
out a full course caution. The skies then opened in turn 9, ending the race under caution – with Sedgwick disappointed with the outcome once again. That he was disappointed with two top five finishes says volumes about his progress this season.
"I saw (teammate) Will Martin launch (from pole) and I went with him," said Sedgwick. "I got squeezed over the curb and had nowhere to go. We had an advantage on the guy ahead but trying to get by just chewed up the tires. We had a big gap to overcome and were chipping away before the rain and the incident. I had a massive moment in turn 8 as well. "But this has been our best weekend points-wise, so we're moving in the right direction. We have a test coming up at Road America so we'll just keep going forward."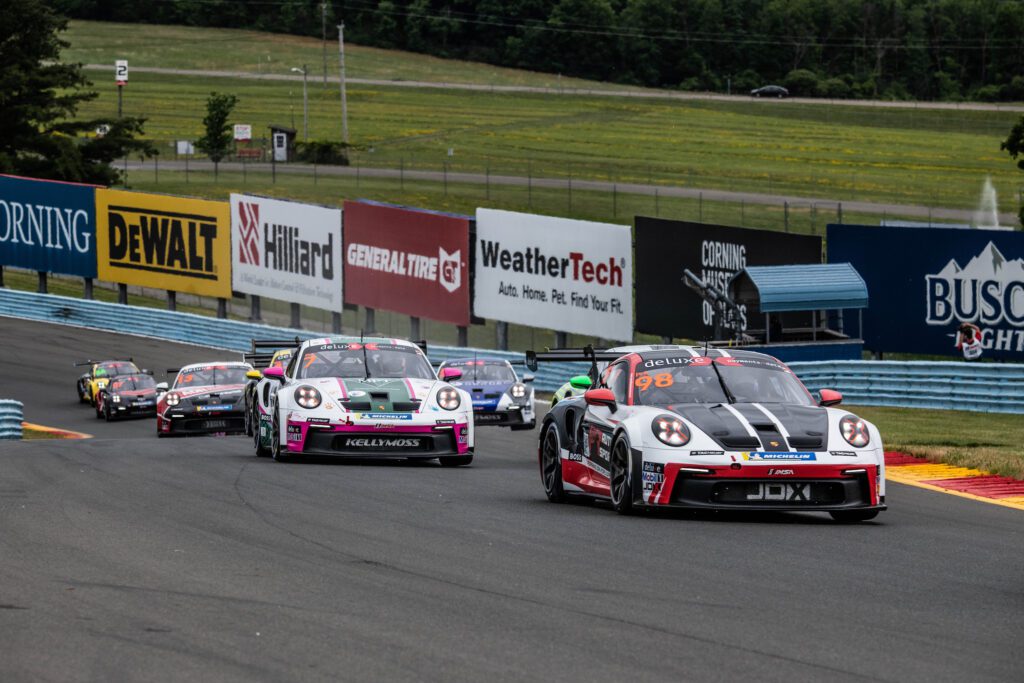 "It's never fun to finish under yellow but clearly it was the prudent thing for the series to do," said team principal Jason Myers. "Two top-five finishes, can't complain. Alex is maturing and learning the car, and we're looking forward to the remainder of the season – but also making plans for 2024. People have approached us, interested both in Alex and in the team, and we appreciate the exposure we've received. John Hindhaugh and everyone at IMSA Radio have been our biggest allies, and we really appreciate that they've talked about Alex and PT Autosport on the broadcasts."
Next up for PT Autosport and the Porsche Deluxe Carrera Cup North America will be the doubleheader in support of the NASCAR Xfinity series event at Road America July 27 through 29. The races will be broadcast live in the U.S., on IMSA.tv, the NBC Peacock streaming app and PorscheCarreraCup.us.
PT Autosport would like to thank JDX Racing partners Byers/Porsche Columbus, Renier Construction, PDCA Inc., and Revamp Marketing.
About PT Autosport
PT Autosport is a newly formed racing team currently based at New Jersey Motorsports Park in Millville, NJ. The team campaigns rising star Alex Sedgwick (U.K.) in the Porsche Deluxe Carrera Cup North America series for the 2023 season with JDX Racing and 2022 Aspiring Driver Shootout winner Henry Drury (UK) in select PCA, SCCA, and WRL races during the 2023 season.
PT Autosport is working towards bringing diversity and opportunity to the motorsport industry, hosting their annual Aspiring Driver Shootout, in which aspiring drivers aged 18-23 can compete for a $100,000 racing partnership with the team. Visit PTAutosport.com for more info.
PT Autosport social media
Instagram: @PT_autosport
Facebook: @PTautosportracing
Twitter: @PTAutosport
TikTok: @PTAutosport