Podium in race one but contact takes Alex Sedgwick out of contention in race two of the Porsche Deluxe Carrera Cup North America doubleheader
ELKHART LAKE, Wis. (31 July 2023) – Alex Sedgwick and PT Autosport with JDX Racing had a sterling weekend going at Road America, setting their best qualifying effort and highest Porsche Deluxe Carrera Cup North America race finish to date.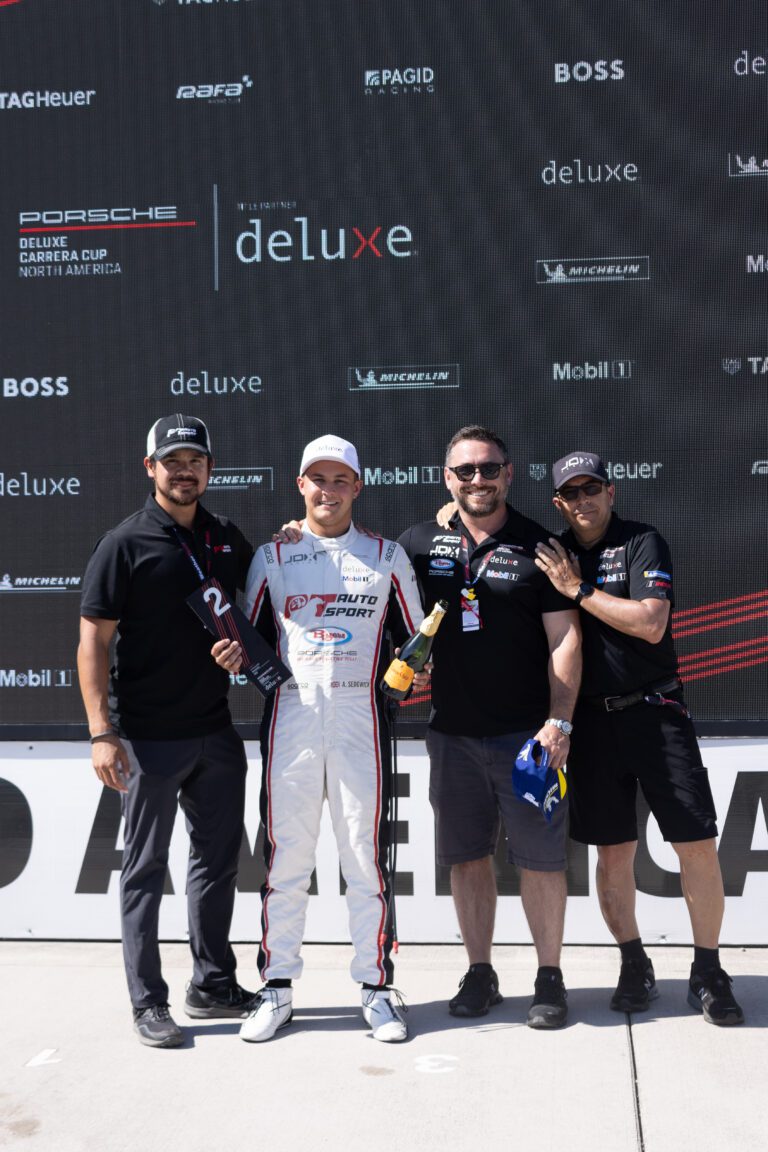 But the weekend ended in frustration when the 24-year-old Warwickshire, UK native – starting on the outside of the front row – saw his No. 98 PT Autosport Porsche 911 GT3 Cup Car hit by polesitter Riley Dickinson and spun off track in the weekend finale. The incident, which also impeded Sedgwick's JDX teammate Will Martin, was reviewed post-race with no resulting penalty.
The PT Autosport team now shifts attention to its second annual Aspiring Driver Shootout, to be held later this week at New Jersey Motorsports Park. 12 finalists will vie for the chance to join 2022 winner Henry Drury on the team's junior program, securing a two-year, $100,000 scholarship that will help the winner begin his or her racing career.
Team principal Jason Myers was understandably frustrated at the way the weekend ended, but ready to put that behind the team as they prepare for the Shootout.
"Alex had such an amazing start to the weekend, qualifying P2 for both races and then finishing P2 in the first race," said Myers. "We had high hopes for race two, but being hit on the formation lap and spun intentionally as the cars came onto the front straight – we're obviously disappointed with the lack of action or penalty, it was a huge blow not only to Alex but also to Will. The race should never have been allowed to go green or without Riley receiving a penalty. It affected both their race outcomes and the series championship. "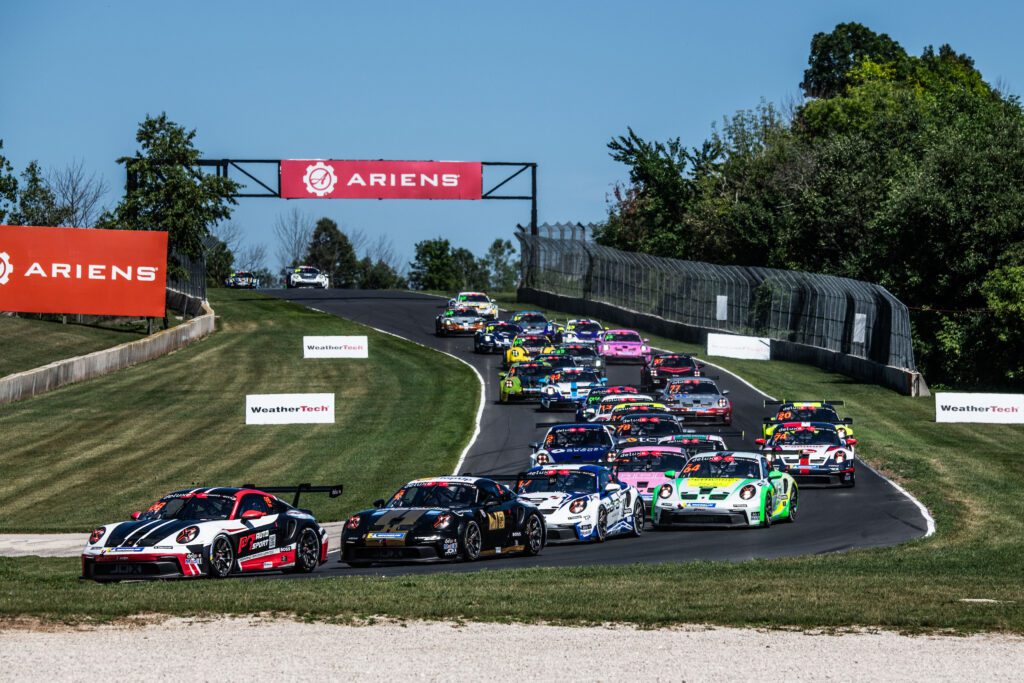 "But onward and upward as we move onto our Aspiring Driver Shootout this coming week, finding another young driver which we will support as they try to make their mark in motorsports. The junior development program is set but clearly, we'll take a long look at where we'll go next season with our pro program, with instances such as yesterday that were handled so poorly."
Sedgwick and the team got their first look at Road America last week, in a two-day test that gave him the chance to come to grips (literally) with both the 14-turn, 4.048-mile test of nerves and the racing surface, which underwent a late fall repave.
After the first practice session on Thursday, Sedgwick was thankful for that test, as a car off in The Kink reduced his track time to only seven laps. But Sedgwick made good use of that time, setting the second quickest time – six/100s of a second quicker than JDX teammate Will Martin, a two-time winner so far in 2023. He continued to settle in during the second session but losing his quick lap when he slid through dirt on track in The King, finishing the session P7. "I feel as though it's just a matter of piecing it all together," said Sedgwick. "You have to be strategic, find a spot with limited traffic, avoid dropping a wheel off, and make the most of the optimal tire temperatures."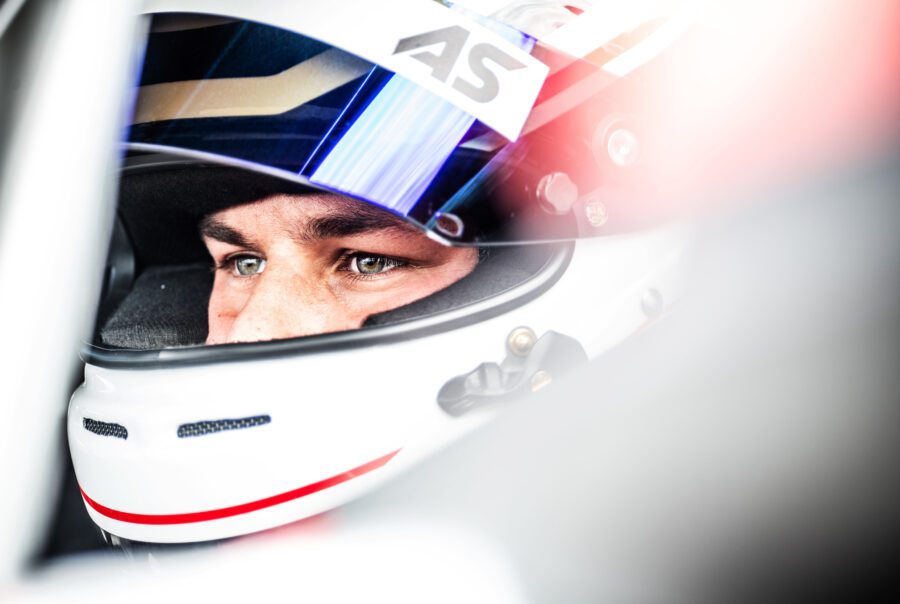 One of Sedgwick's priorities on the weekend was to improve his qualifying times, giving himself "less work to do" in the race. Unfortunately, Sedgwick's flyer lap in Friday morning's qualifying session was derailed by a red flag, leaving him only 10 minutes to move up the starting grid. He set the quickest time with five minutes remaining and at the checkered flag, had set his quickest lap of the weekend at 2:07.708 – good enough for second position and his first front row start in the series.
Race one saw Sedgwick slide outside of polesitter Riley Dickinson in turn one, but wisely tucking back in before Martin could stick a nose inside. But on lap three, two cars hard into the wall in Kettle Bottoms (between turns 11 and 12) left a large debris field and necessitated replacing a section of the wall. Race control immediately threw the red flag to bring the cars into pit lane – but with the clock continuing to tick away.
The green flag flew with just under five minutes remaining and once again, Sedgwick stapled himself to Dickinson's rear wing, then once again worked the outside line in turn one – but with little grip offline, he went wide in the exit, allowing Martin and McElrea Racing's Tom Sargent (both ahead of Sedgwick in points) to get past. But when the pair ran wide in turn four, Sedgwick pounced, managing to clear ahead and jump back into second position – going from second to fourth then back to second in four corners. Sedgwick took the checkered flag in second position, his top finish in the series to date.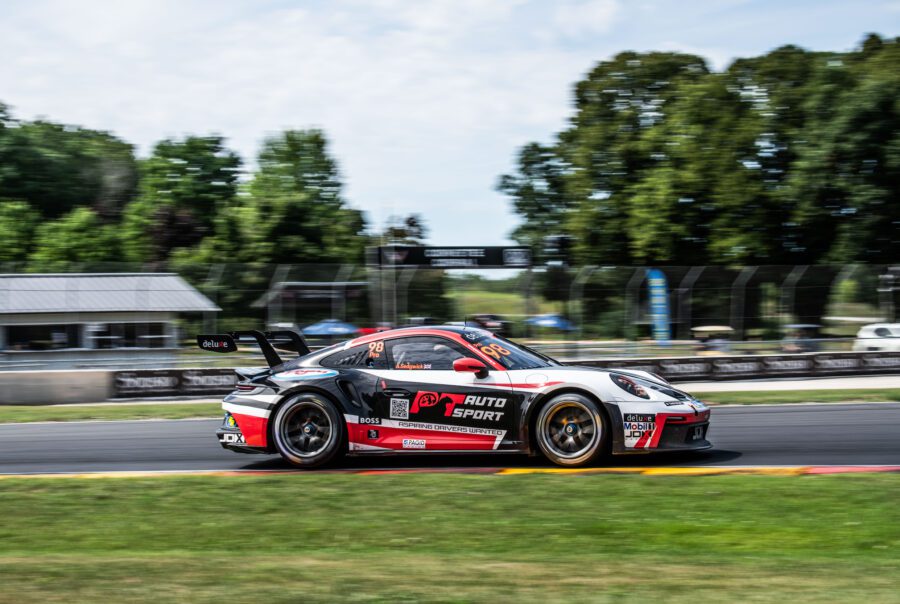 "You get into a rhythm in the race, so it was a bit tough to stop for so long," said Sedgwick. "I got such a big run on Riley at the restart – when I made that move on the start there was more grip than I thought slightly off line so I thought I'd give it a go. Turns out there is really only one line, so I understeered and went into the runoff, but fortunately was able to get back to second. There was really no grip until the front tires came in but I was able to pressure Riley for a good while, so we'll try for more of that tomorrow."
Once again starting alongside on the front row, Sedgwick's chance to pressure Dickinson ended in turn 14 on the pace lap, as Dickinson tagged Sedgwick's right rear and spun him, sending him to the back of the field. A yellow on the following lap gave the team the chance to communicate with Sedgwick, who was understandably livid. He continued the charge when the green flag flew and took the checkers in 11th.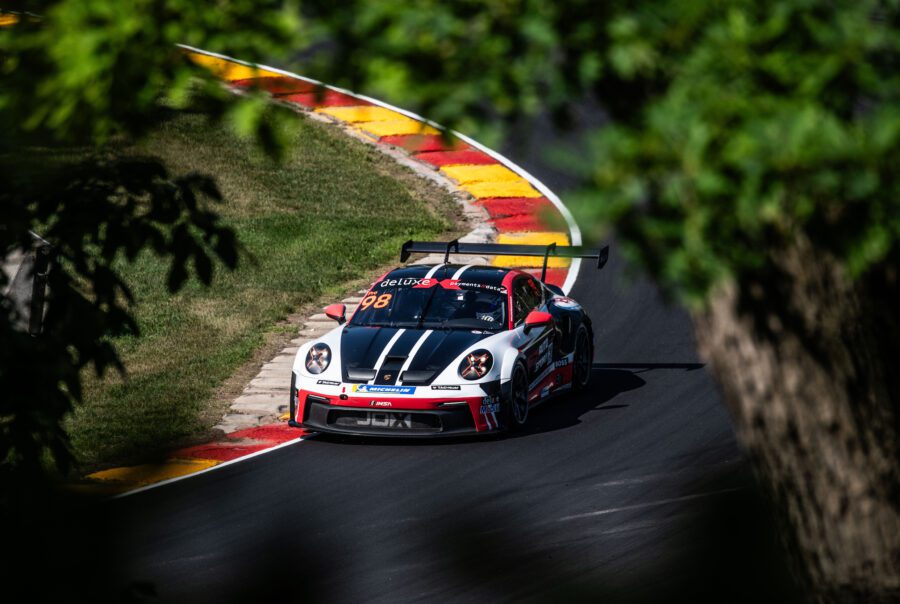 "I was in the same position on the racetrack that I was yesterday," said a clearly angry Sedgwick, regarding his position in turn 14 on the pace lap. "If we'd simply touched, that would have been fine – you often touch wheels at the start. But he got me sideways then kept his foot in it, driving me around. I didn't have a chance to correct it, I don't know what I was supposed to do there. So I started last. But at least we got into the top 11, got some points, so we'll see what happens."
Next up for PT Autosport and the Porsche Deluxe Carrera Cup North America will be the doubleheader in support of the TireRack.com IMSA Battle on the Bricks at the Indianapolis Motor Speedway. Race one takes the green flag Saturday, September 16 at 2:30 p.m. EDT, with race two Sunday at 9:40 a.m. The race will be broadcast live in the U.S., on IMSA.tv, the NBC Peacock streaming app and PorscheCarreraCup.us.
PT Autosport would like to thank JDX Racing partners Byers/Porsche Columbus, Renier Construction, PDCA Inc., and Revamp Marketing.
About PT Autosport
PT Autosport is a newly formed racing team currently based at New Jersey Motorsports Park in Millville, NJ. The team campaigns rising star Alex Sedgwick (U.K.) in the Porsche Deluxe Carrera Cup North America series for the 2023 season with JDX Racing and 2022 Aspiring Driver Shootout winner Henry Drury (UK) in select PCA, SCCA, and WRL races during the 2023 season.
PT Autosport is working towards bringing diversity and opportunity to the motorsport industry, hosting their annual Aspiring Driver Shootout, in which aspiring drivers aged 18-23 can compete for a $100,000 racing partnership with the team. Visit PTAutosport.com for more info.
PT Autosport social media
Instagram:     @pt_autosport
TikTok:           @ptautosport
Twitter:           @PtAutosport
Facebook:     PT Autosport