Alex Sedgwick aiming for first Porsche Deluxe Carrera Cup North America win as a breakout 2023 season comes to a close
MILLVILLE, NJ (16 October 2023) – PT Autosport with JDX Racing and driver Alex Sedgwick scored their first Porsche Deluxe Carrera Cup North America series podium at the Formula One Miami Grand Prix weekend last March.
The team now looks to capture that elusive first series victory at this weekend's Porsche Deluxe Carrera Cup North America season finale doubleheader, part of the 11th Formula One Lenovo United States Grand Prix at Circuit of the Americas in Austin, Texas.
Sedgwick aims to continue his solid run in the second half of the season, having scored three podiums in the last six races. The 24-year-old Warwickshire, UK native tested his No. 98 PT Autosport Porsche 911 GT3 Cup Car at COTA in September but since the 3.436-mile, 20-turn road course is much longer than any circuit on the series schedule, the track presents a unique set of challenges.
"There is so much to COTA and it's all so varied," said Sedgwick. "You can get a good run through the Esses in the first section but then you might struggle over the final section. It's a massive compromise with car setup here – you have to choose how to apply your strengths then just basically deal with it everywhere else. It's difficult to get consistently good exits out of tight corners with the GT3 Cup car, especially as the tires wear, and COTA has some long straights coming out of tight corners so it will be important to be super consistent and minimize mistakes. And of course, track limits come into play more at COTA than anywhere else.
"With just the one test day on a very long track, I might not feel quite as well prepared as I've been over the past few races, but I also feel that I get up to speed quite quickly," continued Sedgwick. "We have just one practice session this weekend to find that balanced setup so figuring it out fast will be key. I'm definitely looking to continue the results we've had over the past few weekends and if we can finally get that race win, so much the better."
For PT Autosport team principal Jason Myers, COTA represents a chance for the rookie team to make a statement – on one of the racing world's biggest stages.
"COTA is such an epic track and to be there with F1 is just icing on the cake," said PT Autosport team principal Jason Myers. "The testing here last month went well, and we're looking forward to seeing that translate into some high place finishes while we continue to push for third in the championship. It's an F1 track so every driver loves to drive it, but it's made for cars with more speed and downforce than the Porsche GT3 Cup car, so it will be an interesting race.

"Our first F1 weekend was our first podium, so maybe our second F1 weekend will be our first victory!"

eSeries entry deadline Wednesday
PT Autosport has announced a new iRacing Sim-based winter series that offers a real-world prize to the winner: automatic entry into the finals at the team's 2024 Aspiring Driver Shootout. 
The four-round iRacing winter series will take place each Saturday from November 18 to December 16 at Noon EST, with a break for Thanksgiving weekend. But the series comes with a significant twist: the car and track combinations will be announced within an hour of the competition, removing the chance to test cars and setup in advance, which significantly levels the playing field. In addition, various secret twists will test drivers on their adaptability and determination, just like in real world scenarios. 
Competitors can sign up for the series on the PT Autosport website – the deadline is Wednesday, October 18.  
The Porsche Deluxe Carrera Cup North America series will contest two races at the F1 Lenovo United States Grand Prix October 21 and 22. Race one takes the green flag Saturday at 3:10 p.m. EDT, with race two Sunday at 11:50 a.m. EDT. The race will be broadcast live in the U.S., on IMSA.tv, the NBC Peacock streaming app and PorscheCarreraCup.us.
 PT Autosport would like to thank JDX Racing partners Byers/Porsche Columbus, and Renier Construction.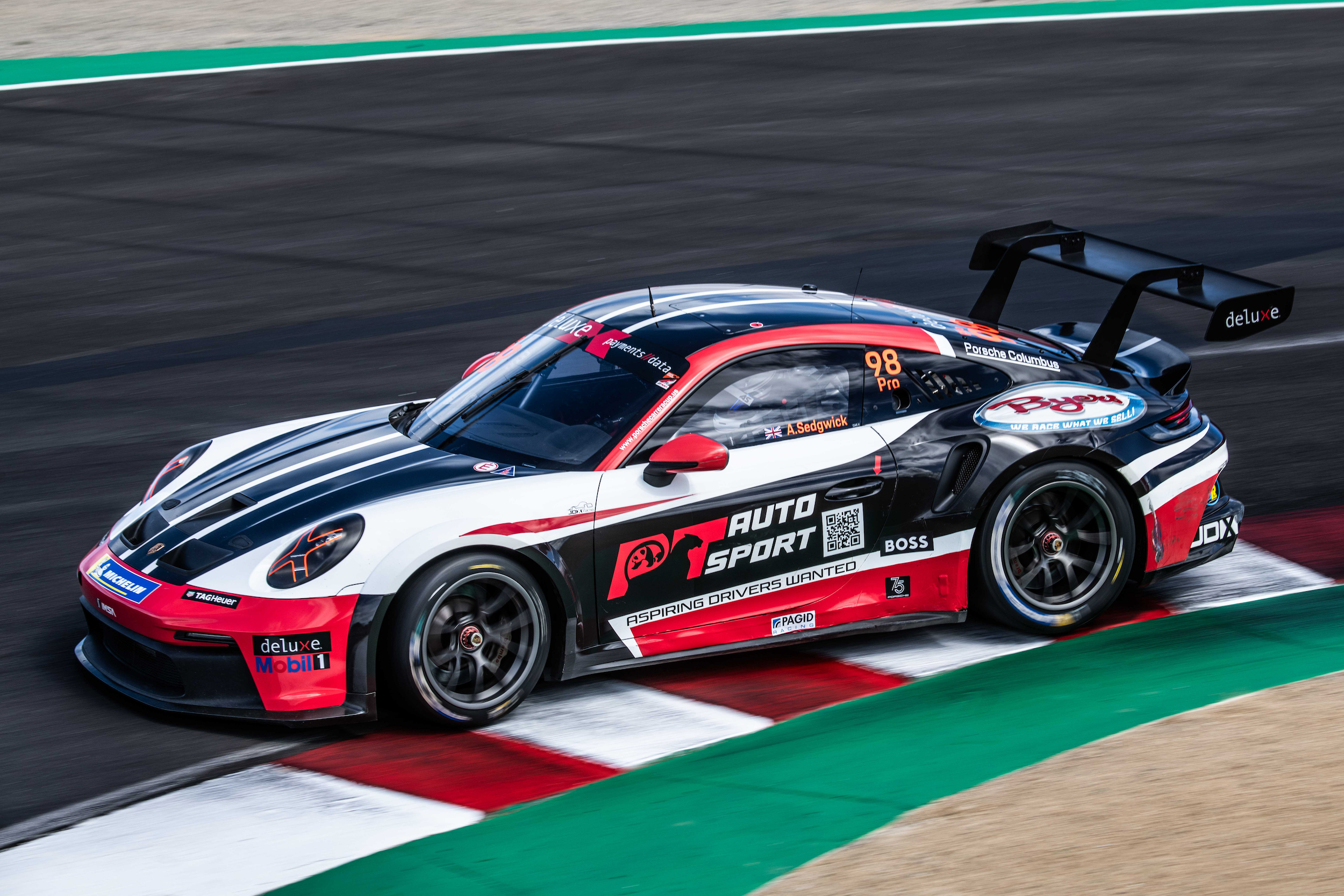 About PT Autosport
PT Autosport is a newly formed racing team currently based at New Jersey Motorsports Park in Millville, NJ. The team campaigns rising star Alex Sedgwick (U.K.) in the Porsche Deluxe Carrera Cup North America series for the 2023 season with JDX Racing, 2022 Aspiring Driver Shootout winner Henry Drury (UK) in select PCA, SCCA, and WRL races during the 2023 season, and 2023 Aspiring Driver Shootout winner Brenna Schubert in a to-be-announced series for the 2024 season. 
PT Autosport is working towards bringing diversity and opportunity to the motorsport industry, hosting their annual Aspiring Driver Shootout, in which aspiring drivers aged 18-23 can compete for a $100,000 racing partnership with the team. Visit PTAutosport.com for more info. 
PT Autosport social media
Instagram: @pt_autosport
TikTok: @ptautosport
Twitter: @PtAutosport
Facebook: PT Autosport