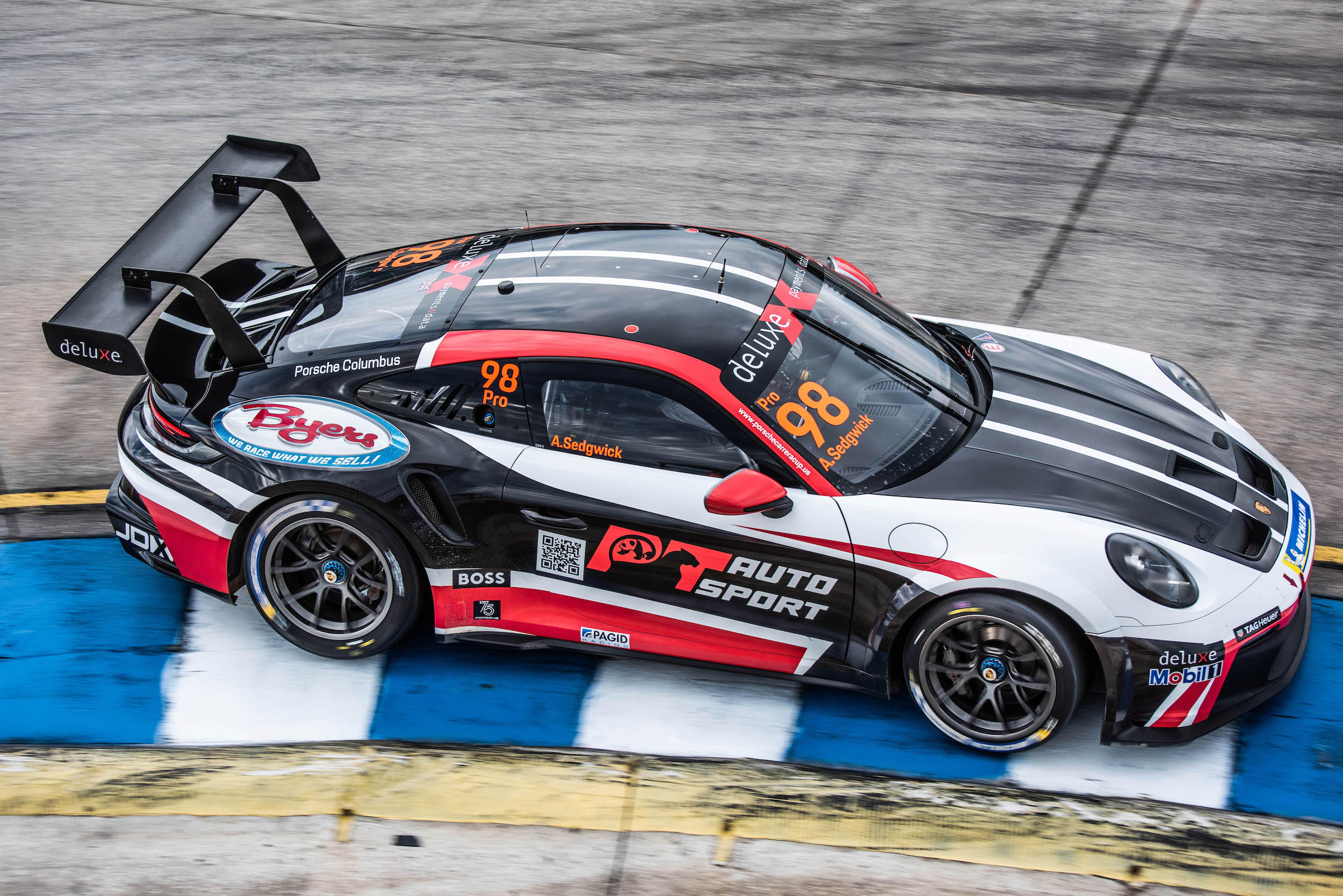 PT Autosport: Racing with a Purpose
The Porsche Deluxe Carrera Cup North America team gets ready for the upcoming Long Beach Grand Prix, while also focusing on its Aspiring Driver Shootout for junior racers
MILLVILLE, NJ (April 4, 2023) – PT Autosport continues preparations for the always exciting Porsche Deluxe Carrera Cup North America series doubleheader at the Grand Prix of Long Beach, but that's just part of the story.
Perhaps even the smaller part.
The story begins when New Jersey-based finance professional Jeph Dais met longtime sports car team manager Jason Myers and race car driver-turned corporate ride and drive manager/driver Alex Sedgwick. With complementary skills, shared interests, and a desire to make a difference, the trio began to put their plan into action – a plan to change young people's lives.
PT Autosport is dedicated to providing opportunities for junior racers from diverse ethnic and economic backgrounds to realize their motorsports dreams. Earlier this month, the team opened online applications for its second annual Aspiring Driver Shootout, to be held at New Jersey Motorsports Park (NJMP) August 1-3. The Shootout winner will be granted a $100,000 racing partnership and will begin his or her progression up the motorsports ladder by starting with the team's junior racing program. The 2022 winner, Henry Drury, will begin his racing program this summer.
Sedgwick acknowledges the symmetry of circumstances that so dramatically changed his own life, enabling him to compete behind the wheel of the No. 98 PT Autosport with JDX Racing Porsche 911 GT3 Cup car in the 2023 Porsche Deluxe Carrera Cup North America series – the top rung of the PT Autosport driver development ladder.
With no budget opportunities on the horizon, the 24-year-old Brit had nearly given up on his racing dreams before meeting Myers and Dais. Now, Sedgwick is a co-founder of the team and competing in the top Porsche series in North America.
"It's kind of crazy, the way this has happened," smiles Sedgwick. "A year ago, I was running driving tours because I had no funding, so my racing career was done – and now I have a long-term career. Jeph, Jason and I clicked so quickly, and our skill sets complemented each other so well. I'm so excited about what we can build here – this has been life changing for me and to be able to bring that to people in a similar situation is incredible."
"We've just opened applications for our second annual Aspiring Driver Shootout and are excited to begin reviewing our next field of talented young men and women who aspire to break into the exciting world of motorsports," said team manager Myers. "We'll also have a few surprises during the Shootout itself, so if you've applied or attended before, apply again, because this round won't be the same!"
Sedgwick will also act as driver coach for the junior drivers in the program, guiding them through the sports car racing learning curve.
"I take a great deal of pride in coaching and I'm looking forward to working with Henry and the other drivers who will come up through the program," said Sedgwick. "Henry doesn't have a great deal of racing experience – and I was in that scenario once. I know what mistakes I made and what I did well, and I can impart that knowledge. We know that there are drivers out there with the determination, work ethic and talent to make it, with a little help."
Each Shootout candidate will complete a short video answering basic questions that will provide insight into exactly those qualities. The application process closes on May 15 and those applicants will be narrowed down to 88, which will then go through a second round of video and written questions. On June 30, the 12 finalists will be announced.
"It's intense and in-depth, but we want to gather as much information from as many different aspects as possible, so we know we have the best candidates," Sedgwick continued. "We will also look at more than just drivers – it may be that some of the applicants are interested in the mechanical side of racing, or the engineering side, so we want to identify those candidates as well. We want to make sure we don't let any deserving candidates slip away."
Meanwhile, Sedgwick and the team focus their attention on the task at hand – managing the tight and tricky 1.968-mile, 11-turn street course that is the legendary Long Beach Grand Prix. PT Autosport partners with 2022 champions JDX Racing this season, who finished second and fourth in two races at Long Beach last year with eventual champion Parker Thompson.
"We're heading into Long Beach really excited to continue the season, with Alex having had a very strong (and clean) first two races at Sebring," said Myers. "JDX is proving to be what we knew they were all along – a championship winning team run by and filled with consummate professionals. We couldn't be happier with our partnership and look forward to continuing and even expanding our alliance with them."
"That first weekend went really well," said Sedgwick. "I've been out of racing for a while so it's still settling in that this is my main focus now! There were so many firsts in my career – first real testing I've had, first engineer, first proper coaching. I've learned so much and adapted well – and what we learned wasn't just Sebring specific, so I'll be able to take that forward."
PT Autosport would like to thank JDX Racing and their partners Byers/Porsche Columbus, Renier Construction, PDCA Inc., and Revamp Marketing.
The Porsche Deluxe Carrera Cup North America series will contest two races at Long Beach. Race one takes the green flag Saturday, April 15 at 5:15 p.m. PDT, with race two Sunday at 4:20 p.m. The races will be broadcast live in the U.S., on IMSA.tv, the NBC Peacock streaming app and PorscheCarreraCup.us.
###
About PT Autosport
PT Autosport is a newly formed racing team currently based at New Jersey Motorsports Park in Millville, NJ. The team campaigns rising star Alex Sedgwick (U.K.) in the Porsche Deluxe Carrera Cup North America series for the 2023 season with JDX Racing.
PT Autosport is working towards bringing diversity and opportunity to the motorsport industry, hosting their annual Aspiring Driver Shootout, in which aspiring drivers aged 18-23 can compete for a $100,000 racing partnership with the team. Visit www.DriverShootout.com or www.PTAutosport.com for more info and follow our Instagram @pt_autosport for updates.