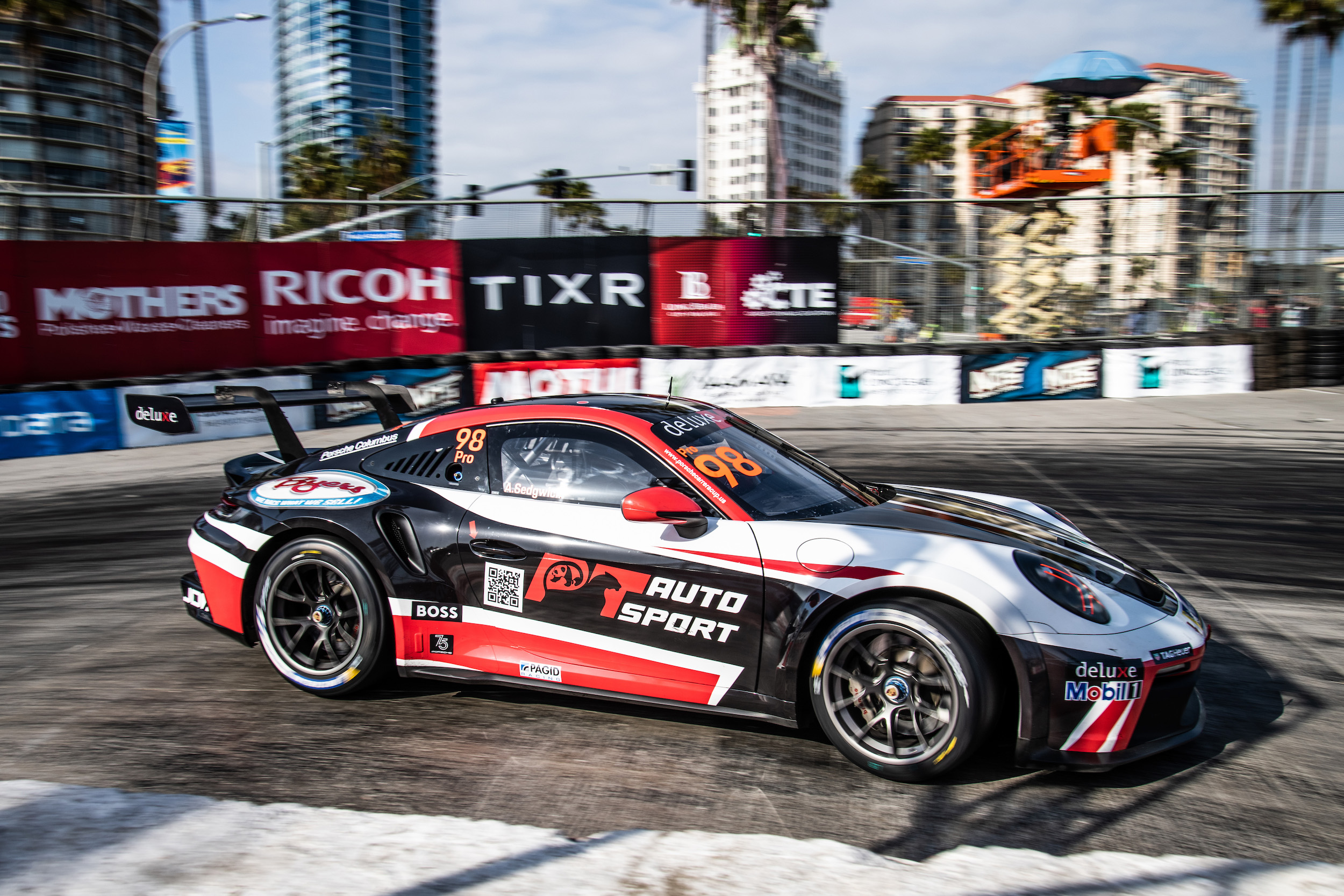 PT Autosport ready to tackle the Miami Grand Prix 
The Porsche Deluxe Carrera Cup North America joins Formula One for a doubleheader this weekend
MILLVILLE, NJ (1 May 2023) – Three weeks after impressing on debut at the legendary Grand Prix of Long Beach, PT Autosport with JDX Racing will check off another "first" this weekend, as the team joins the Porsche Deluxe Carrera Cup North America series at the Formula One Miami Grand Prix.
For British driver Alex Sedgwick, the weekend offers the chance to race his No. 98 Porsche 911 GT3 Cup car on the same race weekend as the global F1 series, which has gained even more popularity in the United States recently with its "Drive to Survive" series on Netflix. Sedgwick got his first taste of street course racing last month at Long Beach, acquitting himself quite well with two top-10 finishes including a fifth in the final race of the weekend as part of the record-breaking NTT INDYCAR SERIES event.
"It's going to be a really fun event with a ton of spectators, lots going on, and quite a cool location," said Sedgwick. "I know a couple of drivers who have done Supercup races with F1 – it's really the pinnacle of Porsche single make racing. It's cool to be in that position, the chance to celebrate on the same podium as the F1 drivers."
2023 marks the first time the North American series has competed as an F1 undercard. Formula One has a long history with Porsche, with the Mobil 1 Porsche Supercup series debuting in 1993. As the pinnacle of worldwide Porsche one-make series, Supercup competes alongside F1 throughout Europe at famed circuits such as Monaco, Silverstone and Spa-Franchorchamps. The American series will compete alongside F1 at both the Miami street course and the Circuit of The Americas road course in Austin, Texas in October.
In its second year, the Miami Grand Prix circuit – officially known as the Miami International Autodrome – is set in the Hard Rock Stadium complex in Miami Gardens and is home to one of the NFL's historic franchises, the Miami Dolphins, as well as the University of Miami football team and college football's Orange Bowl. The stadium opened in 1987 as Joe Robbie Stadium but went through a massive renovation in 2015. The complete revamp left no seat untouched and included the stadium's signature feature: an open-air canopy designed to provide weather protection and increase crowd noise.
The 19-turn, 3.363-mile circuit does not incorporate any public roads but it does cross public throughfares. The layout is predominantly flat, though the Turn 14-15 chicane      has enough of an elevation change that it helps give the track a permanent road course feel.
"It's a street circuit, but not really a street circuit since there are runoffs and some room for error," said Sedgwick. "It's also very, very fast, designed primarily for the high downforce F1 car. It's also a clean slate for everyone in the series so that plays into our favor. I'm still learning the car as well as the racetracks, so every weekend adds to our information database. We got up to speed quickly at both Sebring and Long Beach so if that's the same this weekend, we'll be in good shape."
The Porsche Deluxe Carrera Cup North America series will contest two races at the F1 Crypto.com Miami Grand Prix. Race one takes the green flag Saturday, May 6 at 2:00 p.m. Eastern, with race two Sunday at 12:25 p.m. The race will be broadcast live in the U.S., on IMSA.tv, the NBC Peacock streaming app and PorscheCarreraCup.us
PT Autosport would like to thank JDX Racing partners Byers/Porsche Columbus, Renier Construction, PDCA Inc., and Revamp Marketing.
About PT Autosport
PT Autosport is a newly formed racing team currently based at New Jersey Motorsports Park in Millville, NJ. The team campaigns rising star Alex Sedgwick (U.K.) in the Porsche Deluxe Carrera Cup North America series for the 2023 season with JDX Racing.
PT Autosport is working towards bringing diversity and opportunity to the motorsport industry, hosting their annual Aspiring Driver Shootout, in which aspiring drivers aged 18-23 can compete for a $100,000 racing partnership with the team. Visit www.DriverShootout.com or www.PTAutosport.com for more info and follow our Instagram @pt_autosport for updates.