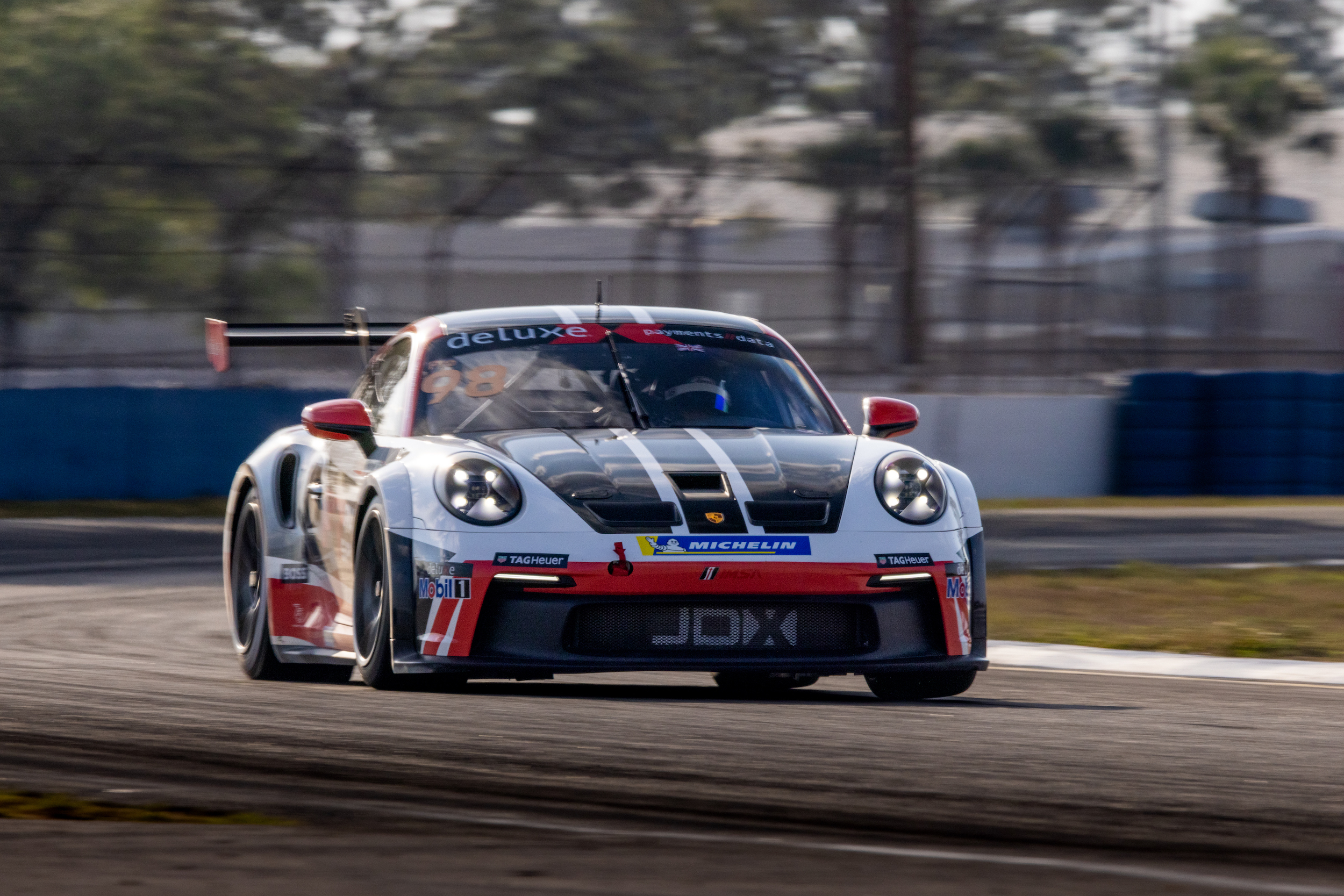 PT Autosport ready for Sebring debut
The new Porsche Deluxe Carrera Cup North America team will partner with 2022 champs JDX Racing as it builds its top tier program
SEBRING, Fla. (13 March 2023) – PT Autosport launches its ambitious driver development program this week, as team co-founder Alex Sedgwick takes the wheel of the No. 98 JDX Racing with PT Autosport Porsche 911 GT3 Cup car in the Porsche Deluxe Carrera Cup North America's season debut at Sebring International Raceway.
The Porsche Deluxe Carrera Cup North America serves as the effort's top tier program (PT Autosport expects to announce its 2023 Shootout – which will see a deserving young driver earn a spot on the team's junior program – in the very near future.) Sedgwick, who also serves as the team's driver development director, joined his two JDX Racing teammates at Sebring last week in the series' two-day test, and showed that the new effort has plenty of potential. Sedgwick paced a quick lap at 2:03.026 – three tenths quicker than last year's pole time.
"Last week was the first proper outing of the year and everything went to plan," said Sedgwick. "We had tested there last year so the first part of the test was about reacquainting myself with layout and, of course, the bumps. I got down to a good pace fairly quickly and from there, it was all about the details – like getting a feel for what we can and can't do with the car. We did a race run and a few qualifying simulations so it's all feeling positive – though with 39 cars at the test, getting a good gap was a challenge! But it's going to be that way next weekend, so it was a good experience in that regard."
Coming off a successful karting career as a youngster, Sedgwick has competed mostly in stock car racing over the past five years, so job one at the test was to reacquaint himself with a GT car, with Sebring's tricky surface changes, and of course, those famous bumps.
"Sebring is so much more down to finding what feels the best underneath you, rather than perhaps what is the most efficient line," said Sedgwick. "There are so many things to consider here that don't even come to mind at any other racetrack. The track is such a huge variable and so much is out of your control – you have to make yourself tune that out and tune more into the car. It's all about finding the best course of action for you and your driving style, and that's quite unique. That said, the biggest bump areas, turn one and turn 17, were among my strongest sectors. You have to build the confidence to ride out the bumps, to know that you're going to have little moments and then correct them."
Jason Myers, PT Autosport co-founder and team principal, was on hand at the test to work alongside the JDX team. He and Sedgwick were impressed by the performance of the 2022 champions.
"Our partnership with JDX is off to a great start," said Myers. "Jeremy (Dale, JDX team principal) is a great guy and runs a great team. Alex was super consistent and the car ran flawlessly. We're heading into the race weekend in a strong position – Alex was able to beat the time that Parker (Thompson, 2022 champion) set last year and the car is incredibly well sorted. We're confident in JDX and in Alex and we're ready to get started."
Sedgwick was joined at the test by JDX Racing teammates Will Martin and Elias De La Torre IV, and the Southam, England native looks forward to working alongside both drivers.
"Will has plenty of experience with Porsche Cup cars so it was good to share data with him. Elias has less experience but he's developing quickly. Across the three of us, I think we have a very good team and I think we'll be strong. We'll all develop together through the year."
Two 40-minute races await the PT Autosport and JDX Racing squads. 41 cars will take the green flag on Sebring's 3.74-mile, 17-turn layout which interchanges between asphalt and concrete. Clearly, job one will be staying out of trouble.
"It's going to be a very interesting race," said Sedgwick. "Drivers are going to make mistakes so the potential is there to get caught up in those mistakes. There's not much escape room at Sebring! But the goal is to keep the car clean, have two solid races and see where we stack up. For me, top five would be great but grabbing a podium would be a huge success for the entire team."
PT Autosport thanks partners Imports, Porsche Columbus, and Renier Construction for their continued support.
The 2023 Porsche Deluxe Carrera Cup North America makes its season debut at Sebring International Raceway March 16 and 17, as part of IMSA's Mobil 1 Twelve Hours of Sebring weekend. Race one takes the green flag Thursday, March 16 at 9:15 a.m. Eastern, with race two later that afternoon, at 5:35 p.m. The race will be broadcast live in the U.S., on IMSA.tv, the NBC Peacock streaming app and PorscheCarreraCup.us.