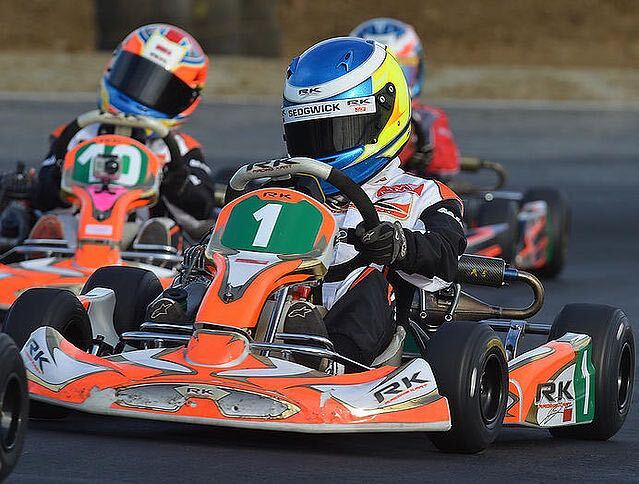 The story starts back in 2007, the world was very different in those times, most phones still had buttons!
I have always been car obsessed since I was a kid, some of my earliest memories aged ⅘ are all car related. As a family we'd go to visit Silverstone to watch a variety of cars and bikes, but it all kicked off when I was able to visit Le Mans as a result of my Dad's job with Peugeot. This was my first real exposure to professional motorsport, I was incredibly fortunate to be able to sit in the pit box as the 908 LMP1 car rolled out for the first time, and this started a lifelong love of sportscar racing, with the ultimate goal to be to compete at the 24 Hours of Le Mans myself one day.
The same year, I sat in a go-kart for the first time, when I completed a 'Let's Go Racing' course at my local kart track. Like any eight-year-old doing something for the first time, I was pretty terrible at this point; however, in those early years, it was all about having fun. Some families played football or went swimming for their weekends, the Sedgwick's went karting! My Dad and I would spend our evenings after work/school building the kart –for me learning how to do simple things like change wheels and sprockets (with Dad doing it properly afterwards!), we'd then spend the weekends racing at our local tracks, Shenington, Whilton Mill and Rissington where my Mum and Sister would join to be hospitality crew and fan club!
These early years of karting, albeit now just flashes of memories are some of the best times – no pressure, no exceptions, no worries about funding, sponsorships nor performance requirements…just going and having fun with my family every weekend.
My first kart race was in August of 2007, coincidentally, there was another driver on the grid making their first start that day, Lando Norris – whom I continued to race against on and off up until our first season in cars in 2014! Without the flashy motorhomes and team support, it was a steady learning process, gradually learning how to improve my times as my Dad learned how to make the kart faster. We won our first trophy together at the end of 2007 in my sixth ever race.
The next year, my first full year of racing, was when things started to pick up. I became WTP Cadet Club Champion at Rissington, which is the turning point where we decided to enter the British Championship for 2009. That first year in the British Championship was a real eye-opener, it was where motorsport started to transition for me from a fun weekend activity with my family to a pursuit of constant improvement, trying to work out how to be the fastest and achieve the ultimate goal, become British Champion.
For the next two years, we competed as a family team, still just me and my Dad working on the kart in the British Championship. The first year was tough, visiting a whole host of new tracks for the first time and racing against teams and drivers spending more for one race weekend than we had spent for my entire career to this point! Despite this, we slowly made improvements, finishing 23rd in 2009, before placing 9th in 2010.
At the start of 2011, an offer came in to join JM Racing, one of the biggest teams in the series with a place available to drive one of their brand new 'Robert Cubic' (RK) karts. This was a huge turning point, to be able to race with the support and equipment of a big team for the first time, and be able to see what I could do! It turned out to be a pretty good year! Starting with the WTP Winter Cup where I won all three rounds – this set us up for the main season where I won five out of seven rounds of the British Championship, which put me on my way to becoming the 2011 WTP Cadet British Karting Champion with one round to go!
At this time in my career, it was an achievement well beyond what I imagined to be possible, going from underdogs fighting against the odds, to dominating and breaking records in the same series won by drivers such as Indycar's Jack Harvey and IMSA's Ben Barnicoat before me.
Once the celebrations were over, it was time to make the next step. We settled on the Rotax MiniMax category racing in the Super One Series, which would reunite me with my old adversary of Lando Norris and also add a new contender, Zhou Guanyu into the mix amongst 30+ other talented drivers.
Like most times when you move up a class in racing, not only does the talent pool become deeper, but the budgets also become higher! I was incredibly fortunate for the support of MIS Motorsport, my first sponsor to help me to make this step, but it was back to being the underdog. We raced under the same roof as a team, but running the crew again, just me and my Dad, which by this point I'd at least learned how to be helpful as a mechanic! Despite racing against teams and drivers with trucks full of spare chassis, engines and tires every weekend, we had some success, claiming some podiums and top fives along the way. Every time it rained we would be in the mix, so I spent two years praying for thunderstorms basically!
However, constantly fighting against the odds grinds down even the most determined people over time, and by the end of 2013, I was starting to feel disillusioned with karting. At this point in my life racing wasn't viewed as a potential future career path, but the desire to succeed and compete at the highest level was very much alive inside of me. As a result, this led to a search for some new opportunities going forward.
Step forward, Ginetta Junior Scholarship. An annual competition organised by Ginetta offers a fully funded spot in the UK's, and probably the world's most renowned junior car racing series, the Ginetta Junior Championship. Hundreds of drivers ages 13-16 apply every year in the hope of being selected for the shootout event, where the final thirty are assessed in gruelling fitness, media and driving assessments to determine the winner.
I entered with no expectation, and no budget to be able to test a car beforehand. The extent of my experience in a clutched car was driving my Mum's Mini up and down the street we lived on to figure out how to pull away, not the most comprehensive training program to then be faced against fellow British, European and World Karting Championship competitors.
I worked super hard over the shootout, the months spent practising my media skills in front of Mum and Dad, running around the local park and watching any onboard videos I could find of Ginetta Junior cars on YouTube were all worthwhile when I was announced as the winner of the Scholarship for the 2014 season! I was elated, this was the turning point, where all of a sudden the world of car racing was opened up to me, and this could potentially become something I do as a career.
A fantastic first year in the Ginetta Junior Championship followed, a very strong grid with my Rookie Class featuring multiple future BTCC and GT winners, as well as Lando appearing once again. I walked away from my first year of car racing with a class win and a fairly respectable tenth overall in the championship. All was building up nicely for the second year, which would be my opportunity for a shot at the title until the realities of motorsport made their first appearance!
Motorsport is expensive, and unfortunately, unless you are at the highest levels of sportscars, stock cars or open wheel, drivers aren't getting paid. Drivers need to find the funding to run their car each season at the lower levels, in the hope that eventually it will pay off should they make it to the top and be able to monetize their talents. Nowadays, even a season of top-level karting or entry-level car racing could run up a bill of more than £100k! This means that there is a large divide between a) those with access to private funding from their family or friends and b) those in my situation, from a brilliantly supportive but very normal family, without the financial means to support a racing career who rely on the support of sponsors and partners to keep the dream alive.
To start 2015 we had a deal in place with a sponsor to return to Ginetta Juniors, until they pulled the plug just two weeks before the start of the season. This sent my world crashing down, faced with my career stalling for the first time due to funding and not being sure of the best course of action. After some deliberation with my family, we decided to take a step back and focus on my GCSE exams for the first half of the year, before making the step up to senior racing over the summer. The small budget we were able to put together was enough for 2-3 races in the latter half of the year, so we just had to make them count!
First up was the French F4 Championship, chosen for its educational, driver development first approach where all cars are run centrally by the series, ensuring all is kept equal and data/setup information is shared across all drivers. I made my debut at Magny-Cours and despite having never driven a single-seater before, I finished the weekend with three respectable top ten results, racing wheel to wheel with names like Alesi, Gachot & Fenestraz.
After this fantastic experience, it was a switch back to the UK as we looked at all of our options for the 2016 season, with a debut in the Renault UK Clio Cup, one of the most widely regarded single-make series, which has produced countless future professional touring car and GT drivers. Here again, going in with no experience of the car (a recurring theme!), I walked away from the final two rounds of the series with a handful of top five and top ten results, which set us up for a strong 2016.
However, unfortunately, the sponsorship conundrum appeared again, meaning 2016 and 2017 were very light on the racing front. I was still able to make the most of the opportunities I did have, however, getting the chance to race twice at the Dubai 24 Hours, my initial first-hand experience of high-level endurance racing, finishing in second place in class, leading a brand new endurance team at the age of 17 in 2017, before winning the Inaugural Imola 12 Hours in class later that year.
Ending 2017, a new opportunity appeared…NASCAR – a passion of mine since I first discovered it watching Motors TV every day before school as a kid. Something entirely different to European styles of racing, but ever since I first saw it, it amazed me – how raw the cars are, low grip, lots of power, and zero driving aids seemed like the ultimate challenge of a driver to me and something I had to cross off my 'racing bucket list'. From when I first discovered NASCAR in 2011, there was now a new goal sitting next to 'Race at Le Mans,' race in NASCAR in the USA.
At the end of 2017, the NASCAR Euro Series started a new project, the 'Driver Recruitment Program,' aimed at supporting drivers from Europe who showed promise for a career in NASCAR to get into the series. I was one of the drivers in the inaugural selection, after hundreds of drivers applied, around 16 were invited to a test, and I was one of the only drivers to walk away with the support of NASCAR. A very proud moment for a big NASCAR fan like me!
This led to racing in the NASCAR Euro Series for the 2018 season, initially with an Italian team, which was interesting considering they didn't speak English, I don't speak Italian and my average A-Level Spanish was the only middle ground to make any communication possible! For the third round of the season, we switched over to a Belgian team, where things took off. At my home race in Brands Hatch, just my third time in the car racing against established names in the series like Day, Hezemans, Longin, Goossens, Labonte & Villeneuve, I qualified first before securing two podium finishes. This was backed up with two more podium finishes at the following round in Tours, France, which was my first-ever race on an oval track. Two more solid rounds to end 2018 and being able to secure sponsorship for the following season were a great way to head into 2019.
This season was going to be the first in my car racing career where I had some stability, same series, same car, same team. Coming off a decent first season, expectations were high for a great year.
That was the plan, but things didn't work out that way. The season started with a top-five in the first race, but it was downhill from there. The level of effort and preparation from the team went massively downhill. This resulted in every one of the next five races resulting in a mechanical problem with the car. My dream of racing in NASCAR had quickly turned into a nightmare – no matter how well I felt that I was performing…I didn't have anything to show for it.
This reached a breaking point at my home race at Brands Hatch, UK. Having started the weekend finishing out of the top 20 in practice, I managed to work hard and push the team to end up P4 in the middle of the final race of the weekend, until once again, something out of my control (a team member setting the complete wrong tyre pressures and camber settings) caused a tyre issue and I finished in 20th.
At this point, I didn't know what to do with myself. I left Brands Hatch completely deflated and felt like no matter what I did, no matter how hard I worked, I just wouldn't be able to progress. I was continuing in a never-ending spiral of getting my hopes up and then working to overcome issues until I became burned out, and like towards the end of my karting career, I hit a breaking point.
It has been my dream to race in NASCAR in the USA since I was a kid, but I'm never happy to just make up the numbers and enjoy the experience. I want to win and give my absolute all. I felt trapped, like I'd worked so hard all my life and I would never get an opportunity to really show what I had, all through factors I couldn't control.
Eventually, I conceded that something had to change. This led to a huge turnaround in my attitude and approach. Rather than keep plugging away and waiting for things to change, I decided to take action and make that change happen. I cancelled my contract to race in NASCAR, with the requirement that the team make changes before I consider returning and also to give myself a little bit of a break to press the reset button.
During this break, the first time I had willingly taken a step away from racing since I started eleven years prior, I was able to focus on some new opportunities. I had been coaching drivers and working as a 'Pro-Driver' for event companies for a few years at this point, but I was able to focus on the ideas always circling in my head, which led me to do something that I had been considering for about 18 months prior – start a business to challenge myself with something new, and also as a way to develop a network of connections and opportunities that may ultimately give me the chance to get back into a race car.
At this point, I had completely turned around my attitude. I had become more motivated and dedicated than ever before. I didn't let the negative feelings consume me. I used them to light a fire and push myself to achieve more, to make changes, and to never accept failure.
The last piece of the puzzle was to return to racing, which I did in the final race of the year. Despite not being in a race car for six months, having a bad case of the flu and having never driven a stock car in the wet, I passed 1997 F1 World Champion Jacques Villeneuve in the last lap to finish P4 overall and first in class.
The 2019 season, despite being one of the hardest personally was a real turning point in my life. Finding ways to deal with the low points, especially in a sport like racing where it feels like the entire world is against you most of the time is vital. I have matured with a new mindset and motivation, which I strongly believe will be the reason for my future success..
Fast forward to 2020 and an opportunity to right the wrongs of the previous season in EuroNASCAR, until this little thing called COVID appeared. This grounded all my plans, both for racing and for work to a halt, faced with a long stretch of sitting at home, I decided to use the time to work towards ticking one of my 'bucket list' boxes, racing in NASCAR in the USA. For two entire months, I worked day in and day out – creating proposals, business plans and finding opportunities. This hard work paid off when in November 2020, I made my US Debut in the ARCA Menard Series at Phoenix Raceway, part of the NASCAR Championship weekend.
This was a huge moment for me, but never one to be happy with where I am, it lit the fire within for more. It was then full steam ahead to try and return for more competitive racing in 2021. This resulted in the opportunity to run an ARCA car at the world-famous Daytona Speedway in January; however, beyond that, it has been slow going, trying to find millions of dollars of funding in a world slowly recovering from the pandemic.
This leads us nicely to where we are today, as the momentum in my racing plans slowed I needed to find new opportunities to stay motivated and find my way back to the track. This has led me to work in a variety of different roles over the last 1.5 years, from Pro-Driver, Instructor & Driver Coach to Event Manager, Social Media & Marketing Manager & European Operations Director for several companies including Automotive Events Agencies and a Luxury Driving Tour Operator. These roles, albeit not directly linked to racing, bring us full circle as it is working on an event where I met Jason, who then introduced me to Jeph at the inception of PT Autosport.
It is early days, but I'm very excited about what we have the potential to build. With my experience as a driver coming through the ranks 'the hard way,' with no personal funding, I feel it places me in a very unique scenario to be able to help identify and develop those who have what it takes to make a career in motorsport. I hope my story of unwavering belief and determination to achieve my motorsport goals reaches its ultimate aim with the support of PT Autosport, for which I am incredibly grateful. Next year looks to be an exciting one, and a big step forward for us all, so keep an eye out for news as we firm up our team plans!
Ultimately, I want to be able to look back wherever we end up with no regrets and can say I gave it my all, and I never, ever gave up until I achieved what I set out to do
Racing has been a part of my life for as long as I can remember; it has taught me many life lessons and shaped me into who I am today. The pursuit of the next opportunity and the never-ending pursuit of self-improvement, to show up and be as competitive as possible, and to, one day, be able to say that I am one of the best in the world is what motivates me every day.​