Alex Sedgwick earns two hard-fought third place finishes at the legendary Brickyard
INDIANAPOLIS, Ind. (____ 2023) – For PT Autosport with JDX Racing, the legendary Indianapolis Motor Speedway marked the most successful Porsche Deluxe Carrera Cup North America race weekend of its rookie season, as rookie driver Alex Sedgwick earned his first double podium weekend of the season.
The 24-year-old Warwickshire, UK native fought hard through the pair of 40-minute races, keeping his No. 98 PT Autosport Porsche 911 GT3 Cup Car (relatively) out of trouble, pacing smart and clean to earn two third-place finishes.
"We're happy to finally get our first double podium weekend!" said Sedgwick. "I'm pleased with two third place finishes, and our race pace was very good – and it was a good points weekend, as just about all the cars ahead of us in the championship except for Riley (Dickinson, the points leader) finished behind us. But we still need to go two better."
Through two practice sessions on Friday, Sedgwick and the JDX team worked to find the balance on Indy's notoriously traction resistant 14-turn, 2.439-mile road course. The team had planned to scrub in three sets of tires through the 30-minute qualifying session Friday afternoon, but with eight minutes lost to an early red flag, the plan was scrapped in favor of finding that last fine-tune.
Sedgwick held the eighth-quickest time late in the session, and the team called him in for a new set of Michelin Pilot Sport Cup N3 tires and a setup adjustment. Sedgwick made quick work of the time sheets, vaulting up to third position at the checkered flag – meaning he would start third in race one, and based on his second quickest lap time in qualifying, fifth in race two.
At the drop of the race one green, Sedgwick found himself boxed in on the inside going into turn one but held his ground through the early stages of lap one. But going into turn 12, in the middle of the track, Sedgwick was hit from behind by Jason Hart, which put him into the grass. Collecting himself quickly, Sedgwick re-engaged in the battle – albeit back in eighth position. 
Sedgwick stapled himself to the rear wing of Jimmy Libre, who was fighting with Sean Varwig ahead. Libre took P6, and Sedgwick began to look for an opportunity to nose ahead of Varwig. The pair paced nose-to-tail and side-by-side for the better part of a lap, before Sedgwick made a daring pass on the inside through turn 14 to take the position. Late in the race, he got a run on Libre into turn five, and perfectly timed the move, making the pass for P4 stick. Sedgwick continued to fight and at the checkered flag, took third position for his third podium of the year.   
"Our pace was good from the start so my plan was to get past Sargent in second and make a run on (eventual winner) Riley (Dickinson) late in the race," said Sedgwick. "But it didn't work out in quite that straightforward a manner! After that first lap, it was a bit of chaos getting past Varwig but we ended up P3, where we started. Championship-wise, the drivers ahead of me save Riley were behind me so hopefully we can avoid the same lap one tomorrow!"
Race two took the green under cloudy and cool skies Sunday morning. Sedgwick stuck to the rear wing of teammate Will Martin ahead, taking the hard inside in turn one and grabbing third position. He controlled the position through the three-four-five complex, holding off a charge from behind, until a full course caution for a two-car incident in turn five halted the action. 
Sedgwick looked for a way around Martin at the drop of the green but held his position through the tight first corner. As the race wound down, Sedgwick stayed close but could not make a move, taking the checkered flag in third position for his fourth podium of the year – and his first double podium of the season.
"After yesterday, I had an idea where Riley was going to launch so as a result, our lane got a really good launch," said Sedgwick. "We all accordioned up in turn one and I had no choice but to go in deep or I was going to get cleaned out. I got plenty of curb and gave Will a bit of a shove forward, but it worked out. We got through clean and went from there."
For team principal Jason Myers, the weekend showcased Sedgwick's growth through the season – and the chance for 2023 Aspiring Driver Shootout winner Brenna Schubert to get her first look at what the future could hold. 
"We're super stoked with Alex's performance and I think it's apparent what an amazing driver he is and is becoming," said Myers. "JDX gave us a quick and solid car, as always, and it was great to have team partner Byers Imports here in full support. I was pleasantly surprised by the calls that race control made in race one, even though he fell back a number of spots through no fault of his own, Alex was able to drive his way back up the field through a lot of talent and skill, ending up on the podium due to the penalty Hart incurred.
"It was also really great to have our second annual Aspiring Driver Shootout winner, Brenna Schubert, here for the weekend. She's been incredibly proactive, walking around and talking to teams and checking out the full atmosphere of the IMSA weekend. We are really looking forward to seeing what options we will have with her in 2024 and beyond. She was also really excited to meet her favorite IMSA driver Jordan Taylor during the autograph session."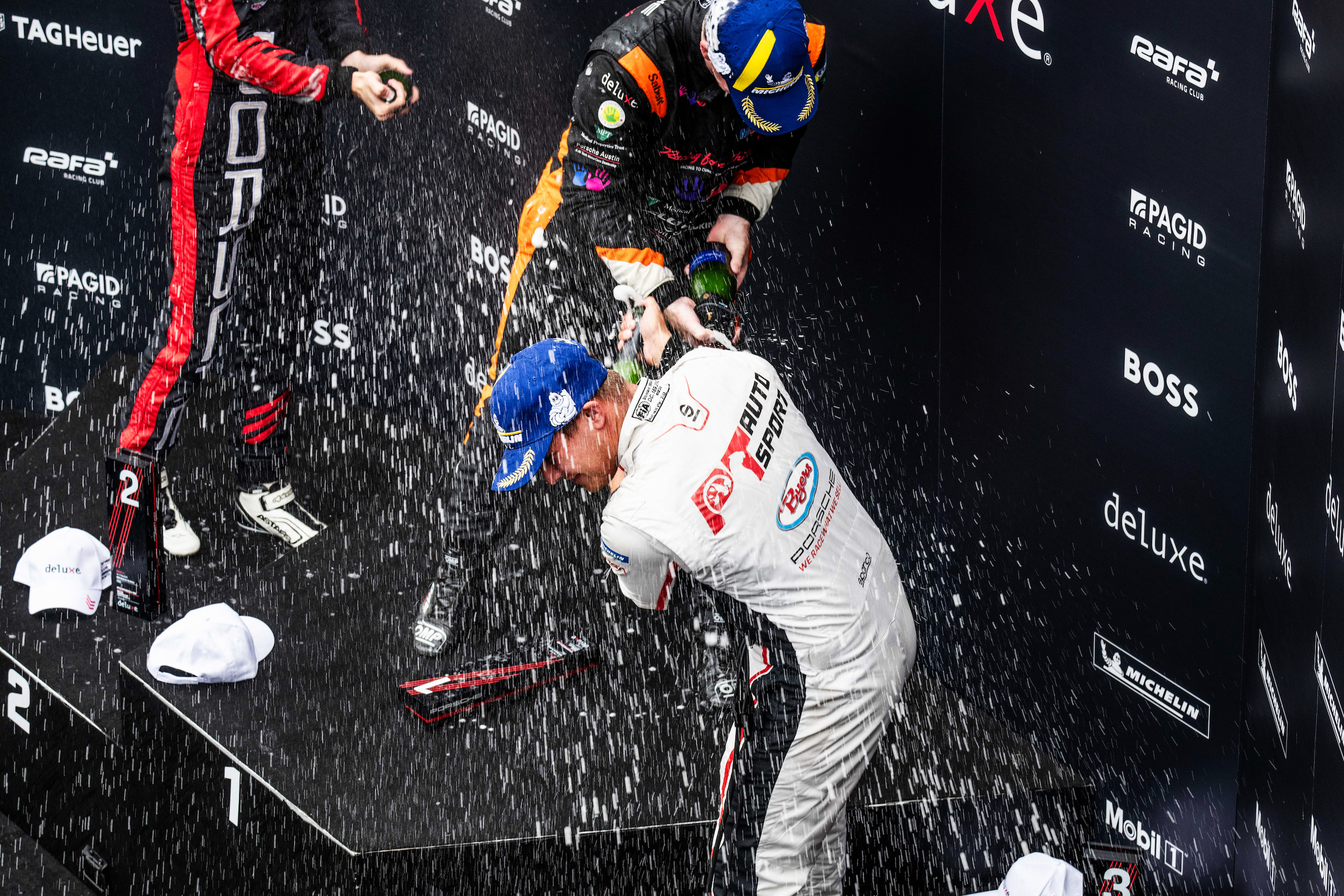 Next up for PT Autosport and the Porsche Deluxe Carrera Cup North America will be the doubleheader in support of the Porsche Rennsport Reunion 7 at WeatherTech Raceway Laguna Seca September 29 – October 1. Race one takes the green flag Sunday at 9:50 a.m., with race two later in the day at 4:20 p.m. The race will be broadcast live in the U.S., on IMSA.tv, the NBC Peacock streaming app and PorscheCarreraCup.us. 
PT Autosport would like to thank JDX Racing partners Byers/Porsche Columbus, and Renier Construction.
About PT Autosport
PT Autosport is a newly formed racing team currently based at New Jersey Motorsports Park in Millville, NJ. The team campaigns rising star Alex Sedgwick (U.K.) in the Porsche Deluxe Carrera Cup North America series for the 2023 season with JDX Racing, 2022 Aspiring Driver Shootout winner Henry Drury (UK) in select PCA, SCCA, and WRL races during the 2023 season, and 2023 Aspiring Driver Shootout winner Brenna Schubert in a to-be-announced series for the 2024 season. 
PT Autosport is working towards bringing diversity and opportunity to the motorsport industry, hosting their annual Aspiring Driver Shootout, in which aspiring drivers aged 18-23 can compete for a $100,000 racing partnership with the team. Visit PTAutosport.com for more info. 
PT Autosport social media
Instagram: @pt_autosport
TikTok: @ptautosport
Twitter: @PtAutosport
Facebook: PT Autosport