The Porsche Deluxe Carrera Cup North America team returns to IMS, site of its first race weekend last year 
MILLVILLE, NJ (11 September 2023) – What a difference a year makes.
PT Autosport was a fledgling team when it arrived at the Indianapolis Motor Speedway in September of last year for the Porsche Sports Car Together Fest. Team owner Jeph Dais and team principal Jason Myers had brought driver Alex Sedgwick on board earlier in the summer and decided to give the young British driver a shot in the USAC Porsche Sprint Challenge series doubleheader.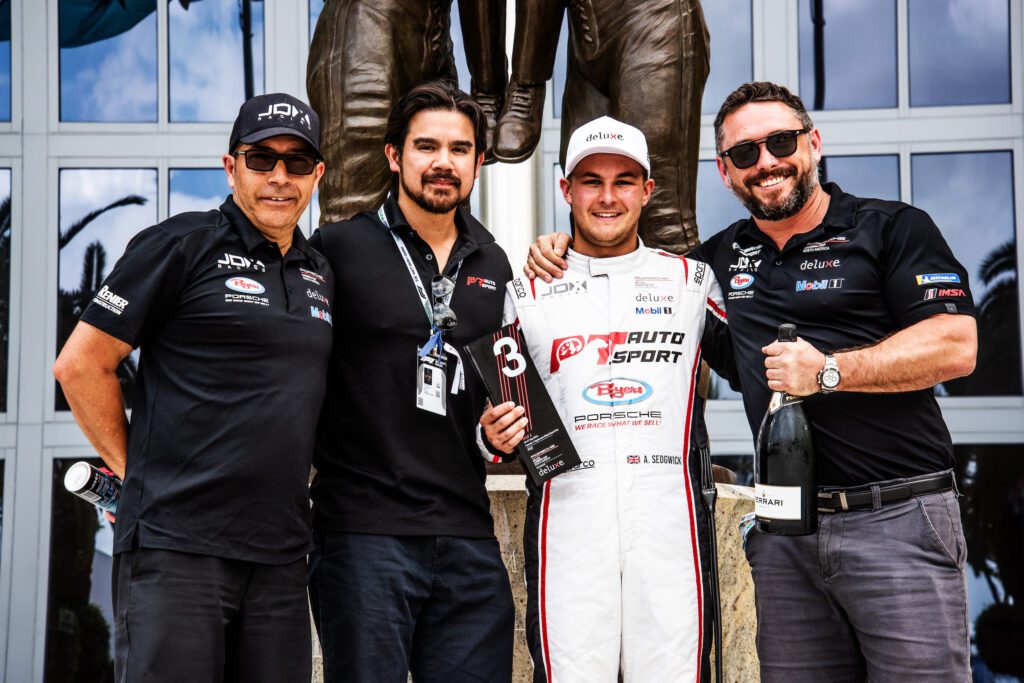 With Dais, Myers, Sedgwick and two mechanics, the team found success straight out of the box. Sedgwick scored two top 10s, including a second-place finish from pole, setting the stage for the decision to compete in the 2023 Porsche Deluxe Carrera Cup – and setting in motion the concept of a junior driver development program.
"It was pretty cool to see what were able to do against teams that had been in the series for a long time," said Sedgwick. "It was also the weekend that the team's ideas and concepts really started coming together. I was able to prove myself to Jeph and Jason – we knew we wanted to stay with Porsche, so we decided to turn our attention to Carrera Cup. As soon as we connected with JDX, it all came together."
Sedwick now lies in fourth position in series points with two podium finishes in the No. 98 PT Autosport Porsche 911 GT3 Cup Car, and the team – with Sedgwick as junior driver development director – has held two successful Aspiring Driver Shootouts, giving two young racing hopefuls the chance to make their dream of a motorsports career a reality. 23-year-old Brenna Schubert won the 2023 Shootout back in August, one of the first women to win a mixed gender motorsports challenge.
For Myers, the weekend serves as a chance to look back at how far the team has come, and to anticipate a bright future ahead.
"Indy holds a special place in our hearts," said Myers. "When we showed up here last year, we had an older car which had never raced in America, having been utilized as a show car for most of its life in Europe. We had some great guys prepping and running the car, and Alex took it out and qualified on pole without breaking a sweat. We ended up finishing a solid second that weekend.
"We're really looking forward to seeing where the rest of the Carrera Cup season takes us, where our junior drivers will cut their teeth in their blossoming careers, and to solidifying our plans for 2024 and beyond," Myers continued. "We couldn't have been more thrilled with the Aspiring Driver Shootout candidates this year, and with our winner, Brenna Schubert, who finished third in last year's competition. We're looking at doing some testing with her in the near future, likely with the Cayman platform and possibly eyeing Yokohama GT3 Sprint Challenge."
Sedgwick will achieve a first this weekend, racing at a track that is familiar to him for the first time this season. The JDX team tested at the legendary Speedway two weeks ago, and while Sedgwick had anticipated finding it easier to settle in, the difference in Porsches from last year to this made for a bit of an adjustment.
"The Indy test went well," said Sedgwick. "It was just a single day but got down to a good pace, both in qualifying and race scenarios. But – I did find that it was a bit more complex, as the way I drove the track in a 991.2 last year was very different to the 992 in some spots. But overall, it was nice to go out and already have an idea of where the track goes and to have some references.
"Qualifying will be very important because it's such a short track, so the times will likely be super tight," Sedgwick continued. "Starts will also be challenging with such a long drag race to turn one and going from a super wide track to a very tight turn – inviting drivers to contemplate questionable moves!"
The Porsche Deluxe Carrera Cup North America doubleheader takes place September 15-17 as part of the IMSA Battle on the Bricks at the Indianapolis Motor Speedway. Race one takes the green flag Saturday at 2:30 p.m. EDT, with race two Sunday at 9:40 a.m. The races will be broadcast live in the U.S., on IMSA.tv, the NBC Peacock streaming app and PorscheCarreraCup.us.
PT Autosport would like to thank JDX Racing partners Byers/Porsche Columbus, Renier Construction, PDCA Inc., and Revamp Marketing.
About PT Autosport
PT Autosport is a newly formed racing team currently based at New Jersey Motorsports Park in Millville, NJ. The team campaigns rising star Alex Sedgwick (U.K.) in the Porsche Deluxe Carrera Cup North America series for the 2023 season with JDX Racing, 2022 Aspiring Driver Shootout winner Henry Drury (UK) in select PCA, SCCA, and WRL races during the 2023 season, and 2023 Aspiring Driver Shootout winner Brenna Schubert in a to-be-announced series for the 2024 season.
PT Autosport is working towards bringing diversity and opportunity to the motorsport industry, hosting their annual Aspiring Driver Shootout, in which aspiring drivers aged 18-23 can compete for a $100,000 racing partnership with the team. Visit PTAutosport.com for more info.
PT Autosport social media
Instagram:     @pt_autosport
TikTok:           @ptautosport
Twitter:           @PtAutosport
Facebook:      PT Autosport
Contact: Diane Swintal
diane@sundaymanagement.com