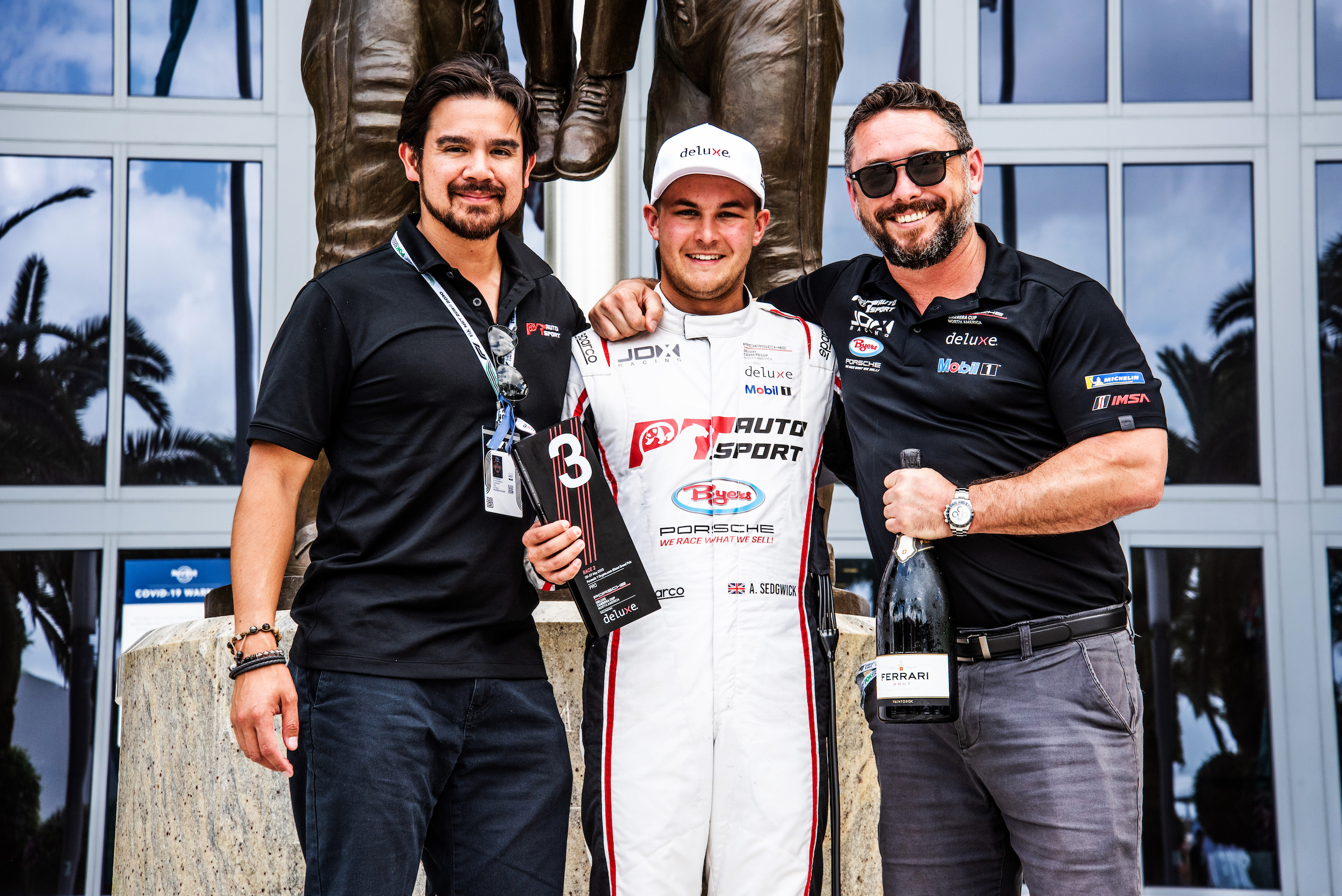 PT Autosport earns a hard-fought first podium at Miami
Alex Sedgwick recovers from a difficult Saturday to bring home a hard-fought third place as the Porsche Deluxe Carrera Cup North America joined Formula One at the Miami Grand Prix
MIAMI (____ 2023) – PT Autosport with JDX Racing experienced the full spectrum of racing emotions this weekend, surviving a difficult race on Saturday to bring home its first Porsche Deluxe Carrera Cup North America podium just ahead of Sunday's Formula One Miami Grand Prix.
PT Autosport driver Alex Sedgwick, from Warwickshire, England, engaged in a nail-biting battle for third with 2022 series runner up Kay van Berlo through the closing moments of Sunday's 45-minute race, but held his ground – and his emotions – to bring the team its first series podium.
For Sedgwick, who had all but given up on his racing career before connecting with PT Autosport last year, the moment was somewhat surreal.
"This is huge," said Sedgwick. "I've not been racing for so long so to be here at all, and with such strong pace – especially given the little time we had to practice – is kind of insane. But I felt that we were owed a podium after yesterday and today, we really earned it."
With last month's Grand Prix of Long Beach giving Sedgwick his first experience on a street circuit, the team came into the weekend with the hope of earning the first podium for the No. 98 Porsche 911 GT3 Cup car. While Saturday's final result did not reflect Sedgwick's level of competitiveness, Sunday's event showed the 25-year-old Brit's true mettle.
Friday's opening practice session was a disjointed affair, with several red flags due to incidents holding Sedgwick's lap count to only six trips around the 19-turn, 3.363-mile circuit that winds around the home of the NFL's Miami Dolphins, Hard Rock Stadium. But the laps were solid, with Sedgwick pacing within two-tenths of the series leaders.
Hopes for more in the afternoon session were dashed on the very first lap, when a competitor slammed into Sedgwick from behind, causing significant damage to the right rear of the car – and consigning the team to a late night repairing the car in time for qualifying. Sedgwick proved once again that he has become adept at learning new tracks quite quickly, putting into sixth on the race one starting grid with a lap at 1:56.867.
Race One/Saturday
With ambient temperatures nearing 90F and track temps over 120, managing man and machine over the 45-minute race distance would be the order of the day. Sedgwick took the green on the inside of row three, wisely slotting back as the leaders attempted to go four-wide through turn one. He quickly settled into P7, stapled right on the rear wing of Thomas Nepveu, retaking the position on lap three.
Fighting Varum Choksey for the fifth position, Sedgwick set him up and slid past in turn one – but went in a bit too deep, tagging Choksey from behind and sending him spinning. Gathering himself continuing forward, Sedgwick had a spiriting spirited battle with van Berlo, who was competing as a "guest" driver so was not eligible for points.
But before Sedgwick could make a move, a damaged car in turn 16 brought out a full course caution – and it was during the caution that stewards announced a penalty to Sedgwick for incident responsibility, which would necessitate a drive-through of pit lane after the race returned to green.
The green flag flew with 16 minutes remaining and in the ensuing chaos, Sedgwick grabbed third position – but several cars came together and stopped in turn one, bringing the yellow out once again. The race returned to green with only two laps remaining, which meant that Sedgwick had no time to make his way back up the field after the drive through.
"It's a disappointing result but all in all, there are quite a few positives to take away," said Sedgwick. "I've been out of racing for a few years but I can see how much my race craft has improved, especially my race starts. It's nice to be up in front and out of the majority of the chaos – though some of the chaos was at the front! I tried to stay out of trouble as much as possible, especially once I knew about the penalty. But we know we have the pace to stay with the leaders. We'll start 4th on new tires tomorrow so we'll see what we can make happen."
Race two/Sunday
Cloudy skies greeted the racers Sunday morning, with a significant tailwind down the back stretch adding to the pending storylines. Sedgwick took the green in fourth position and made a move to the outside in turn one. In the middle of a three-wide scrum through turns one and two, Sedgwick wisely chose caution, slitting back into position – but with van Berlo once again filling his mirrors. The pair battled hard for several laps until van Berlo was able to set up the pass, though Sedgwick immediately returned the favor and stuck to van Berlo's rear wing.
An incident in the final corner brought out a full course caution just after the midway point. Returning to green with 13 minutes remaining, Sedgwick once again avoided the turn one carnage as third and fourth tangled, sending one of the cars into the bright blue runoff – and putting Sedgwick into third position. The two leaders commenced a hard battle for the lead, with Sedgwick right behind and hoping to force a mistake – while balancing the occasional glance in the mirrors at fourth and fifth right behind.
With five minutes remaining, van Berlo once again appeared in Sedgwick's mirrors. The pair paced in tandem, with van Berlo pushing hard – at one point, tapping Sedgwick's Porsche in an effort to get by. But Sedgwick was having none of it, perfectly managing his car control to bring the car home in third.
"It was a much harder day than yesterday but at least I knew what to expect at the start," said Sedgwick. "We were the only ones in the front group on new tires, so they had the upper hand early. But once my tires came in, I was able to reel them back in. That's when van Berlo caught up to me – but knowing he wasn't eligible for points, I let him go pretty easily so we could both catch up. But when I saw him there for the last couple of laps, it was a different story – I really had to fight hard over those laps so glad to have held on for that first podium!"
"After a bit of a rocky start to the weekend, and with very little practice time, we were super impressed with Alex's qualifying effort," said team principal Jason Myers. "He was running as high as third in race one before an unfortunately stiff penalty relegated him to the back of the field. Starting P4 in race two, we were incredibly optimistic, and Alex did not disappoint, wheeling his JDX/Byer's Auto/Renier Construction Porsche 992 GT3 Cup car around the F1 circuit like the pro he is. He narrowly avoided multiple incidents and fended off van Berlo until the very end, bringing home a well-deserved third place! We can't thank the entire JDX team, Byers Porsche Columbus, and Renier Construction enough for their support. We look forward to the next round at Watkins Glen!"
Next up for PT Autosport and the Deluxe Porsche Carrera Cup North America will be the doubleheader in support of the IMSA WeatherTech SportsCar Championship's Sahlens Six Hours at Watkins Glen International. Race one takes the green flag Friday, June 23 at 1:25 p.m. EDT, with race two Saturday at 12:20 p.m. The race will be broadcast live in the U.S., on IMSA.tv, the NBC Peacock streaming app and PorscheCarreraCup.us.
PT Autosport would like to thank JDX Racing partners Byers/Porsche Columbus, Renier Construction, PDCA Inc., and Revamp Marketing.
About PT Autosport
PT Autosport is a newly formed racing team currently based at New Jersey Motorsports Park in Millville, NJ. The team campaigns rising star Alex Sedgwick (U.K.) in the Porsche Deluxe Carrera Cup North America series for the 2023 season with JDX Racing.
PT Autosport is working towards bringing diversity and opportunity to the motorsport industry, hosting their annual Aspiring Driver Shootout, in which aspiring drivers aged 18-23 can compete for a $100,000 racing partnership with the team. Visit www.DriverShootout.com or www.PTAutosport.com for more info and follow our Instagram @pt_autosport for updates.