Pennsylvania native earns a two-year racing partnership to begin her racing career
MILLVILLE, NJ (4 August 2023) – "This is going to change my life forever."
After two days of intensive fitness, media, simulator and track competition, Quakertown, Penn. native Brenna Schubert captured the second annual PT Autosport Aspiring Driver Shootout, earning a $100,000 racing partnership over the next two years with the team's junior racing program.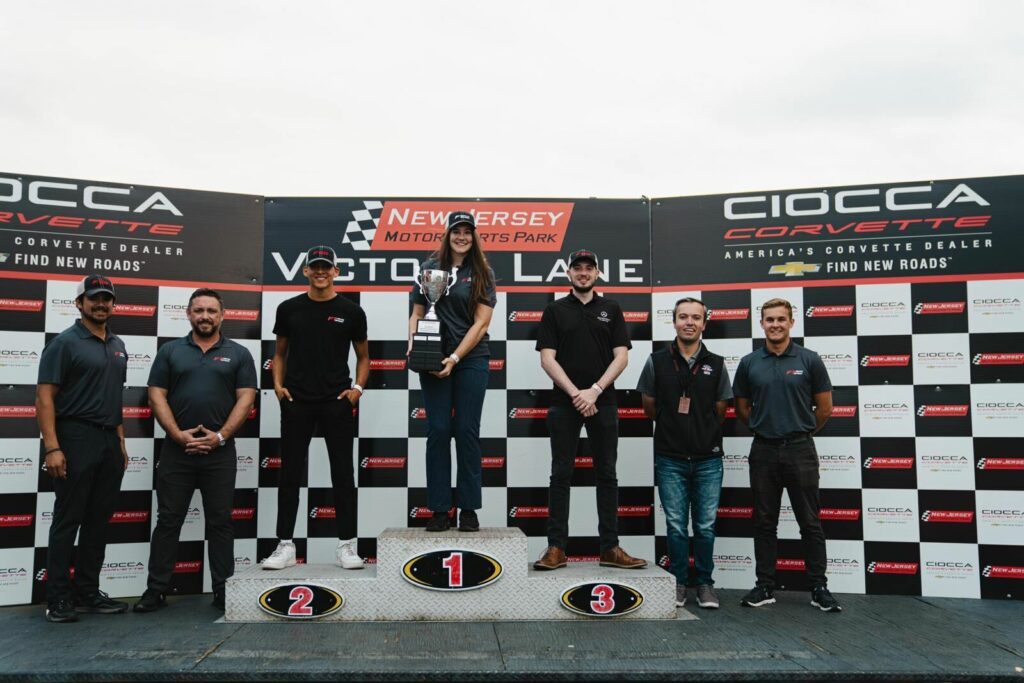 12 candidates were chosen from 137 applications received from aspiring drivers located all over the world, spanning three continents, six countries, and 31 different American states. Applications came from a diverse base of gender, ethnicities, education levels and social backgrounds – including students and graduates from 74 different universities. Four of the 12 finalists returned from the 2022 Shootout, including Schubert, who finished third last year.
"It was a whirlwind of emotions when they said my name – equal parts excitement and shock," said Schubert. "Anthony was really fast on track so I had no idea of what would happen. I think my media presentation helped – I took it as an opportunity to present more of a business pitch, which I think stood out. My driving has also improved a great deal since last year. Bryce Rodriguez (last year's runner up) and I earned a three-day Skip Barber Racing School in last year's Shootout, and that really helped me get my shifting techniques down.
"The instructors at the Shootout were also really amazing, they helped me so much. But I have to say, the fitness test was the most challenging part of the Shootout – I'm definitely still feeling it!
Schubert, who has raced karts for much of her life, now heads back to the Skip Barber Racing school to earn her racing license. She will also represent Team USA in the Formula Woman GT car Nation's Cup race taking place at the Yas Marina Circuit in Abu Dhabi in 2024.
"Our 2023 shootout is in the books, and we couldn't be more pleased with all our candidates," said PT Autosport Team Principal Jason Myers. "After three days of trials and tribulations, which came after months of applications filled with questions and video responses, Brenna really stood out as the best choice and real success story of PT Autosports second annual aspiring driver shootout!
The opportunity not only reflects Schubert's talent and potential, but also her tenacity, as the Shootout was her second shot at the opportunity after taking third last year.
"Brenna really stepped up her game and focused on all the things we had identified as potential areas that were lacking or needing improvement," said Myers. "She used her third-place prize to attend the Skip Barber Racing School at Lime Rock Park and worked on her shifting and car control. She's been pounding the pavement building relationships with Skip Barber and other potential partners and sponsors to help her racing career, entering as many competitions and programs as possible – all while still working and coaching/racing karts.
"There are lots of exciting things for her on the horizon and we're very happy to help support it. As a dad with a daughter around Brenna's age, I am so proud of her when I think about how far she's come, all while chasing her dream. We are really looking forward to seeing where her career takes her!"
The 12 finalists were assessed across multiple activities, as the team sought the candidate best equipped to succeed both in and out of the race car. The rigorous assessments included:
– Fitness
Fitness coach Anthony Crouchelli evaluated the finalists after a variety of fitness tests, grading both on overall performance and their determination to fulfill the test requirements.
– Media
Team Principal Jason Myers and HPD Factory Pro Ryan Eversley tested the candidates' interpersonal and public speaking skills. The candidates were asked in advance to prepare a five-minute presentation about their past, present and future in racing, then the judging panel asked a number of questions, evaluating both the presentation and their responses.
– Simulator
The driver coaches (Will Martin and Anton Spires) schooled the candidate around NJMP in iRacing's Porsche GT4 Clubsport MR, then graded them on progression and control.
– Teamwork & Racecraft
Day 1 ended in a group interview of the candidates in groups of three, up front and in the hot seat, being asked questions by their peers and driver coaches alike. This was followed by their 60-second elevator pitch to make a new connection and get someone's business card for a follow up meeting, which teaches them to think on their feet.
– Driving
On Day 2, each candidate had three progressive tests in identical Porsche Spec Boxsters, where they were judged not just on speed, but car control, progression, and their willingness to learn. Each test session would end with three drivers being cut.
– Final
Then, after lunch on the final day, the remaining six of Brenna Schubert, Alexandro Vielma, Henrique Ruozzi, Anthony Ospino, Brian Blauman, and Eric
Norman were put through a run intended to replicate what the drivers will encounter on a typical race weekend. After that, in the final test, Schubert, Vielma, Ruozzi, and Ospino participated in one final mock qualifying run with only one flying lap allowed.
"It has been a great week," said Alex Sedgwick, the team's pro driver and junior driver development director. "We had a varied field in terms of backgrounds and experience and it was super interesting to see their progression from the start to the end of the event."
"In the end, Brenna (Schubert) came out on top. The level of progression Brenna has made from last year's Shootout was incredible. Coupled with a strong performance in the off track assessments, we feel we have a very deserving winner."
"This opens so many doors for me," said Schubert. "There are so many options for the future now. Winning this is everything, it's the jumping off point of my entire racing career."
PT Autosport's 2022 Shootout winner Henry Drury will next compete August 11- 13 in the Porsche Club of America event at NJMP, competing in a Spec Boxster with the PMR racing team.
Next up for PT Autosport's pro level program will be the Porsche Deluxe Carrera Cup North America doubleheader in support of the TireRack.com IMSA Battle on the Bricks at the Indianapolis Motor Speedway. Race one takes the green flag Saturday, September 16 at 2:30 p.m. EDT, with race two Sunday at 9:40 a.m. The race will be broadcast live in the U.S., on IMSA.tv, the NBC Peacock streaming app and PorscheCarreraCup.us.
About PT Autosport
PT Autosport is a newly formed racing team currently based at New Jersey Motorsports Park in Millville, NJ. The team campaigns rising star Alex Sedgwick (U.K.) in the Porsche Deluxe Carrera Cup North America series for the 2023 season with JDX Racing and 2022 Aspiring Driver Shootout winner Henry Drury (UK) in select PCA, SCCA, and WRL races during the 2023 season.
PT Autosport is working towards bringing diversity and opportunity to the motorsport industry, hosting their annual Aspiring Driver Shootout, in which aspiring drivers aged 18-23 can compete for a $100,000 racing partnership with the team. Visit PTAutosport.com for more info.
PT Autosport social media
Instagram: @PT_autosport
Facebook: @PTautosportracing
Twitter: @PTAutosport
TikTok: @PTAutosport